Florence Travel Guide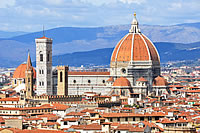 Florence is the city to fly to if you're after a healthy dose of history coupled with that famous Italian hospitality. Heralded as one of the most important locations of the Renaissance, Florence has a plethora of museums and galleries to satisfy all culture cravings, as well as enough delicious dishes to fulfil an altogether different kind of appetite.
Location
Tuscany, western Italy
Climate
Florence has a Mediterranean climate that can veer towards humid. During the summer, peak temperatures can be as high as 34 degrees C, while winter temperatures may plummet as low as -1 degree C. Rainfall varies throughout the year, but it is more likely to rain in the winter than during the summer.
Currency
Euro
Time Difference
GMT +1
Transfer Time
Galileo Galilei Airport at Pisa is the main hub used for getting to Florence, although the smaller Amerigo Vespucci Airport is located about five kilometres from the centre of Florence. You can catch a train from Galileo Galilei to Florence or get a bus from Amerigo Vespucci to the main Santa Maria Novella station in the city.
Hotels
The popularity of Florence as a tourist destination means that there are plenty of hotels to choose from. You can get a basic room for about £50 a night, or splash out on luxury accommodation at a cost of up to £500 a night. Recommended lodgings include the Desiree Hotel, Hotel Botticelli and Hotel Accademia.
Attractions
There are likely to be more attractions than you can fit into an average week-long holiday, so pick and choose carefully. The Duomo cathedral and the spectacular Baptistry are must-sees for architecture aficionados, while the Ponte Vecchio bridge, built in 1345, is also an essential item for any itinerary. You could also try to arrange your trip to coincide with events such as the international Best of Wine Tourism competition and the Marvels of Sound baroque music festival.
Shopping
Modern shops and cosy boutiques offer most things any shopper could want in Florence, including clothing, wine, shoes and more. There are also plenty of markets where you can put your haggling skills to the test and hopefully pick up a locally made bargain or two. Just a few stores you might want to visit include Emilio Pucci for items with that famous bright, swirly print, traditional Italian shoe shop Tod's and rare music outlet Data Records.
Excursions
There are more than 40 fascinating towns circling Florence to check out on day trips, as well as a host of regions offering different pleasures. Try visiting Chianti - where the famous wine is from - or take in the beautiful landscape in the hilly Mugello region. You could also check out the wetlands of Fucecchio for some wildlife-spotting.
Family
Kids will enjoy the variety of museums to be found in Florence, including the Paolo Graziosi Florentine Museum of Prehistory and the Museum of Champions, which traces the history of football in Italy and around the world. Child-specific events include the Festa della Rificolona - a lantern festival - in September, among others.
Getting Around
Walking is recommended in the city centre as there never seems to be much available in the way of parking. Bus passes for set periods of time are available, while taxis can be flagged down outside the main railway station.