Madeira Travel Guide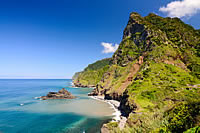 The Madeira Islands - comprising Madeira and Porto Santo - offer a superb climate, lush scenery and a host of things to see and do, whether you're looking for a relaxed or active break. The archipelago's remote location in the Atlantic means that holidaymakers heading to Madeira will truly feel as if they are getting away from it all.
Location
About 300 miles north-west of Africa
Climate
Madeira boasts a tropical climate with average temperatures of about 22 degrees C during summer and 16 degrees C in the winter. There is a certain level of humidity and seawater temperatures are broadly similar to air temperatures due to the warmth of the Gulf current.
Currency
Euro
Time Difference
GMT +0
Transfer Time
Madeira International Airport is located about half an hour from Funchal, the capital, which is situated on the island of Madeira. Taxi is probably the most convenient way of getting between the two points, but car rental facilities and bus services are also available. If you're heading to Porto Santo, you can get a connecting flight at the airport or alternatively take a ferry.
Hotels
There are lodgings to suit every budget in Madeira. Budget rooms become particularly cheap during the off-peak winter season, but are generally very busy during the Christmas period. Mid-priced hotels include the Crowne Plaza and the Hotel Monte Carlo, while the Savoy and the Cliff Bay are aimed at those with a bit more cash in their pockets.
Attractions
If culture is your thing, Madeira has plenty of churches, aristocratic homes and museums to wander around. Architecture fiends will enjoy the sights of the Funchal Town Hall, the Regional Government Palace and the Baltazar Dias Municipal Theatre, among other buildings. You could also check out one of Madeira's relaxing spas, indulge in some water sports or take a gamble at the Madeira Casino.
Shopping
Madeira's most famous export, Madeira wine, is not the only locally made product on offer. You can also purchase handmade shoes, tapestries and embroidery as souvenirs. Funchal has a range of more modern shopping facilities for fashionistas.
Excursions
Take a ferry or plane to Porto Santo and enjoy its golden beaches and spectacular scenery, play a round of golf or two or battle it out with a partner at tennis. If you want to stay on Madeira, there are plenty of tours on offer to help you take in all there is to see on and around the island.
Family
The Sao Vicente Caves on the north coast of Madeira are sure to be a hit with adventurous children. Meanwhile, the Madeira Theme Park offers a fun educational experience for all the family, while Madeira Magic is an attraction targeted at kids that boasts a planetarium and numerous exhibitions.
Getting Around
Rented cars are plentiful, while the local bus services offer direct routes to some of Madeira's most popular attractions. Taxis are also on hand to provide a speedy way of getting around, but make sure you check how your journey will be charged before getting in.