Frankfurt Travel Guide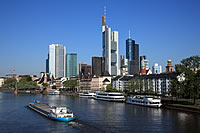 Frankfurt, the fifth largest city in Germany, is often described as the 'financial capital'. However it has much to offer the tourist and visiting business traveller alike. Walk around its centre to take in the spectacular city skyline, visit an exhibition at one of its many museums or enjoy a stroll through the beautiful Palmengarten.
Location
Northern Germany
Climate
Frankfurt has very cold winters (average daytime temperatures of 0-5 degrees Celsius) but pleasant summers (average daytime temperatures of 20-25 degrees Celsius)
Currency
EURO
Time Difference
GMT +1 hrs
Transfer Time
The airport is located 8 miles southwest of the centre of Frankfurt. City trains run approx every 15 minutes to the City Centre, buses also depart outside the arrival hall in Terminal 1 or take a taxi (approx 20 mins to city centre)
Hotels
Hotels in Frankfurt are of a high standard and provide facilities to accommodate both the holidaymaker and business traveller.
Attractions
Visit the lovingly restored Goethe-Haus, The Liebieghaus (sculptural museum), Deutsches Architekturmuseum (architectural Museum), The Museum für Angewandte Kunst (Museum of Applied Arts), the Film museum or Alte Oper (Frankfurt's Old Opera House). For the more active visitor there are also sporting facilities available including, fitness centres, health clubs, ice skating and golf courses.
Shopping
Frankfurt is a modern German city offering quality shopping facilities and excellent cuisine (German, continental and international) at one of the many local Taverns and Restaurants.
Excursions
Walking around Frankfurt is a pleasant way to see much of the architecture and attractions.
Family
Children and adults will both enjoy a visit to the Zoo or relax and enjoy the beautiful surroundings at The Palmengarten, a park and botanical garden.
Getting Around
You can explore Frankfurt on foot, but public transport is good and includes an underground, tram and bus service. Private taxis and car hire are also available.