Goa Travel Guide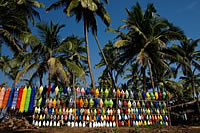 This Indian paradise is the perfect setting for a couple of weeks of winter sun or as a stopover on a backpacking trip around Asia. Goa is the smallest state in India, making it the easiest to explore. As well as its golden beaches and surf-perfect waters, the region's Portuguese past intertwined with traditional elements of Indian culture offer up plenty of sights, entertainment and cuisine to intrigue even the most seasoned traveller.
Location
West coast of India
Climate
The best time to go to Goa is between September and March, as the hot, sticky monsoon takes place during the standard summer months. Even during the cool months, however, daytime temperatures can hit highs of 29 degrees C.
Currency
Indian rupee
Time Difference
GMT +5.5
Transfer Time
Dabolim Airport is located just outside Vasco da Gama, 30 km from Panaji. Buses and taxis are on hand to transport travellers to Vasco da Gama and beyond, while a rail service also operates for those looking to head a little further afield.
Hotels
Accommodation is plentiful and varied, with rooms ranging from those in upmarket resorts to low-cost backpacker lodgings and mid-range hotels. You could end up paying as little as 200 rupees (£2.50) a night for a double room at the cheaper end of the spectrum and up to 10,000 rupees for a luxury room with all mod cons. If you're planning on eking out your stay for longer than a couple of weeks, it might be worth investigating long-term rental of a room or property, which can cost up to 5,000 rupees a month.
Attractions
If you can drag yourself away from the beautiful beaches for long enough, try having a look round Ancestral Goa, which recreates a village from a century ago to provide a taste of historical Goa. There are also plenty of galleries and museums that showcase the state's colourful past, as well as some spectacular temples and mosques. At night-time, sample the delights of India's first floating casino, the MS Caravela, or drop in on one of the many parties and raves that dot the coastline during the tourist season.
Shopping
Goa offers a mix of modern shops and markets selling everything from handmade furniture and brassware to clothing, fresh spices and cashew nuts - a particular favourite with the locals. Two well-known markets in Goa are those at Mapusa and Anjuna, which sell goods as diverse as fish, herbs and second-hand items.
Excursions
If you fancy venturing away from the capital, try heading to the bustling south Goan town of Margao, or to Ponda where you can gaze at its temples. If you want to travel out of the state, Mumbai is easily accessible via a 500 km train journey.
Family
Goa is not just a party destination. Take the kids bird-watching or treat them to some go-karting thrills and spills. You could even go crocodile-spotting near the village of Cumbarjua - but don't get too close.
Getting Around
Bus services are plentiful and are often prone to making unscheduled stops to pick up anyone who might happen to be waiting. You could test your haggling powers on the numerous rickshaw drivers, or hang on for dear life on the back of a unique motorcycle taxi.