Geneva Travel Guide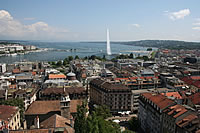 Geneva is a modern, cosmopolitan and sophisticated city set in a stunning location, which retains the charms of its historic past. It is an important commercial and financial centre and a popular destination, especially during winter months for it's onward connections to ski resorts
Location
Situated on the shores of Lake Geneva, Switzerland
Climate
A generally mild mid European climate although winters can be cold.
Currency
Swiss Franc
Time Difference
GMT +1 hrs
Transfer Time
Geneva International Airport is only 5 kilometres from the City centre and is served by efficient bus and train links. Most major car hire companies are represented. There are also the Aero Ski Bus routes, which offer direct transport to a number of French and Swiss Ski resorts.
Hotels
A wide range of accommodations are available in Geneva, ranging from budget hotels to 5* deluxe.
Attractions
The narrow winding streets of the Vieille Ville (old town) with its many cafes, bars, shops and restaurants. The 12th century St Peters Cathedral, the flower and flea markets. The English Gardens with its famous floral clock.
Shopping
Geneva offers a full spectrum for the shopper. There are the art and antique shops of the Old Town. There is a flea market every Wednesday and Saturday, and designer fashions can be purchased on the stylish Rue de Rhone. Shops specialising in the famous Swiss chocolates can be found everywhere.
Excursions
Hire a car in Geneva and enjoy a day out in the Alps or in the nearby resort town of Montreux, made famous by its annual film festival and breathtaking location. Enjoy the lakeside promenades or take one of the many boat excursions.
Family
Geneva is a child friendly city. Most of the hotels and some restaurants offer reductions for children
Getting Around
The Old Town is best experienced on foot. There is also an efficient bus and tram network. Car hire is recommended for exploring further afield.