Galway Travel Guide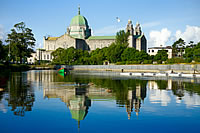 If you want to stretch your Irish legs beyond Dublin, Galway is the perfect place to start. Known as Ireland's third city, it is famous for its architecture, rich culture and numerous events and festivals, and is packed with enough bars and restaurants to keep every night owl happy.
Location
West coast of Ireland
Climate
Galway has a mild climate that is affected by the Gulf Stream nearby. Temperatures reach highs of nearly 20 degrees C in the summer months and plummet to lows of about four degrees C in the winter. It unlikely that you will experience very high or very low temperatures in the city, however.
Currency
Euro
Time Difference
GMT
Transfer Time
Galway Airport is located close to the city itself and services flights travelling to and from the rest of Ireland, the UK and Europe. Transportation between the airport and Galway is primarily by bus or taxi. Shannon Airport, about 90 km away, is the airport to use if you're flying in from further afield and is easily accessible via bus, car or taxi.
Hotels
Galway offers a variety of accommodation to suit all types of traveller. Big name luxury hotels rub shoulders with more modestly priced hostels and bed and breakfasts, while a range of self-catering lodgings are also available. Prices can range from as little as £14 a night for a basic hostel bed to about £225 for more opulent surroundings.
Attractions
During the day, take the time to explore Galway's winding lanes and pretty buildings. Night-time brings numerous opportunities to take in the city's traditional Irish pubs and restaurants, and enjoy the local hospitality. There are festivals galore to visit, particularly during the summer, while visitors who fancy a flutter or two could always check out the Galway Races. Galway Bay, together with its surrounding environment, is renowned for its extraordinary beauty and is worth a visit when the weather is fine.
Shopping
Galway offers a mix of high street names, department stores, touristy shops and specialist outlets, selling goods ranging from designer clothing to locally made goods. Regular weekly markets are also on hand to provide food and other items, as well as boutiques for those special one-offs.
Excursions
Galway is the ideal base from which to explore the rest of the west coast of Ireland. Head north to County Mayo and take in the beautiful natural landscapes, numerous museums and summer festivals, or stick close to Galway and explore its rolling green surroundings and the nearby villages of Kinvara and Gort. You could also take a trip to the Aran Islands and experience some real Irish traditions.
Family
Galway's festivals and parties will be the main attraction for those with kids during the summertime. A number of specialist activity centres and pet farms are also on hand to occupy children across the region, while you could also take the family on adventures such as pony trekking and sailing.
Getting Around
There are plenty of buses to take visitors around the city and to destinations across the region. If you fancy taking a trip to Dublin or another big city, rail facilities are also available.