Havana Travel Guide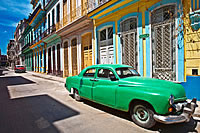 Pretty much every kind of holiday is catered for extensively by the Cuban capital. Havana has a wealth of cultural sights, nightlife and scope for relaxing in the sun to suit all age groups. Spectacular architecture and clear blue skies make for a beautiful backdrop to one of the most vibrant cities in the Caribbean region.
Location
Western Cuba, on the north coast
Climate
Havana has a tropical climate that gives way to warm rains every summer. Average maximum temperatures generally hit highs of almost 32 degrees C in August and 25.8 degrees C in January.
Currency
Cuban peso
Time Difference
GMT -5
Transfer Time
The city is about 11 miles away from the international airport and is accessible via road, either by bus, taxi or rented car. Travellers should check fares before jumping in a taxi.
Hotels
Accommodation in Havana is primarily made up of hotels, although bed and breakfasts and budget lodgings are also available. Prices range from the £15 mark to around £200 for a room. You'll also be able to search out private accommodation for a good price, but if you can splash the cash it's recommended that you try one of the smaller hotels in the old part of Havana.
Attractions
There's plenty to see in the city, with beautiful buildings, museums and other cultural establishments strewn across Havana. Check out the neoclassical El Templete, the Parade and Cathedral Squares, and the Vedado road that runs past the ocean for 12 kilometres between Old Havana and the Vedado district, allowing easy access to a number of interesting attractions, such as Revolution Square.
Shopping
There are more old-fashioned markets and stalls than modern shopping centres and boutiques, but this makes for an altogether more interesting shopping experience for visitors. The ultimate souvenir is probably a genuine Cuban cigar, which are sold both in shops and on the street. Rum is another good treat to take home with you, as well as unusual prints and paintings from the Taller Experimental de Grafica de la Habana gallery.
Excursions
Check out the fishing village of Cojimar, situated to the east of Havana, where Ernest Hemingway's fishing boat has been put proudly on display. There are also several other monuments dedicated to the writer that are worth a look. Elsewhere, relax on the 15-kilometre beach between Bacuranao and Guanabo, also to the east, or take a flight to the mini island of Cayo Largo south of Cuba, which boasts stunning beaches and sparkling waters.
Family
Havana offers much for those travelling with children - as well as harbouring a plethora of restaurants selling a wide range of Spanish, African and western dishes, the city's beaches are an obvious attraction for young kids. Why not take the opportunity to explore the city via a horse-drawn carriage, or take an excursion to a nearby resort for a few days?
Getting Around
Regular bus services are available, along with the standard rental cars and taxis. For a journey with a difference, try taking a cycle rickshaw or one of the old-fashioned taxis from way back when to get you from A to B in unusual style.