Tasmania Travel Guide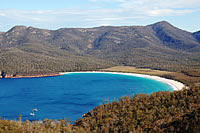 Australia's only island state, Tasmania is a heart-shaped island filled with lush forests, picturesque harbour towns, white sandy beaches and soaring peaks. Over 40 per cent of Tasmania is protected and the island is home to 20 national parks and some of the most unusual plants and animals in the world, including the famous Tasmanian devil, which cannot be found anywhere else in the world.
Location
240 kilometres to the south of Australia
Climate
Tasmania has a maritime climate and enjoys four distinct seasons. Average summer temperatures range from 17C to 23C, while winter temperatures rarely get above 11C.
Currency
Australian dollar
Time Difference
GMT +11
Transfer Time
Shuttle bus services operate from Tasmania's Burnie Wynyard, Devonport and Launceston airports, transporting visitors to hotels, guest houses and hostels in most accessible areas. Tasmania has a reliable and efficient bus network, which is ideal for visiting the island's main towns and cities. Rental cars are also available from most towns and airports.
Hotels
Visitors will find a wide range of accommodation on Tasmania, from backpacker hostels to upmarket lodges, with something to suit all budgets. There are also plenty of camp sites and self-catering options available. Visitors can also opt for farmstays, which can involve living with a local family and helping to tend to their animals.
Attractions
An island of exceptional natural beauty and home to many rare species of plants and animals, many of Tasmania's attractions are located outdoors. Major attractions include Mole Creek Karst National Park, Hastings Caves and Mount Wellington. Some of the island's main heritage sites include the Ross Female Factory, Port Arthur Historic Site and the Queen Victoria Museum and Art Gallery.
Shopping
Although it is more of a wildlife lovers retreat than a shoppers paradise, there are still plenty of pretty markets and boutiques to explore in Tasmania. Those interesting in making some locally produced purchases can visit the huge Salamanca Saturday market or the popular Penguin market. Good antique shops can be found in Hobart, Launceston, Devonport and Burnie, although many of the smaller towns such as Latrobe and Evendale also have interesting stores.
Excursions
There are plenty of excursions available, particularly for those interested in getting closer to the island's wildlife. Trips are available to many national parks and mountain areas. Excursions to the Port Arthur historic site are also available, with tours around the dead and Boy's Prison and Pirates Bay. Other options include taking a trip on the West Coast Wilderness Railway, which snakes its way through old mining towns and forests.
Family
Families can take part in all manner of outdoor activities in Tasmania, with everything from horse riding to white-water-rafting on offer. Popular attractions include the Tasmanian Devil Conservation Park, Copping Colonial Convict Collection and Holly Bank Adventure Centre.
Getting Around
Tasmania's main towns and cities are served by a reliable bus service; however, some of the most remote areas best accessed by car. Rental vehicles are available at all airports and in most towns. What's more, many of the island's highways are named to reflect the areas they pass through, such as the Convict Trail and East Coast Escape.