Helsinki Travel Guide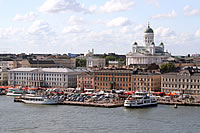 While Helsinki is one of the most sparsely populated capitals in Europe, the city is packed with things to see and do. The Finnish capital offers a host of museums, events, galleries and shopping opportunities, as well as eye-catching architecture and plenty of nature to admire.
Location
Southern coast of Finland
Climate
Helsinki sees long summer days with typical temperatures ranging from 15 to 30 degrees C. July is usually the warmest month, while the end of January brings the lowest temperatures. Average winter temperatures are around the -4 degrees C mark, although it can get as cold as -15 degrees C.
Currency
Euro
Time Difference
GMT +2
Transfer Time
Helsinki-Vantaa Airport is located some 19 kilometres from the centre of Helsinki. Typical journey times between the two points are around the 25-minute mark when travelling by road. Taxis and airport buses are available, as are buses to the Central Railway Station.
Hotels
Helsinki is home to about 45 hotels in the city centre, with more scattered elsewhere in the metropolis. Luxurious lodgings include the scenically-set Hilton Helsinki Kalastajatorpp, as well as the Best Western Premier Hotel Katajanokka. Cheaper rooms can be found at the Helka Hotel, AEL-Hotel and Hotel AVA, among others.
Attractions
Some of Helsinki's biggest attractions include the spectacular Senate Square, the Suomenlinna Maritime Fortress, the unique Temppeliaukio Church, Uspensky Orthodox Cathedral, Ateneum Art Museum, the National Museum of Finland and the Museum of Contemporary Art Kiasma. If you're the outdoorsy type you could go on a Nordic walking trip around Helsinki, or perhaps admire the Gardenia tropical garden or the Harakka Nature Centre.
Shopping
Helsinki's main shopping facilities are concentrated on a number of streets in the city centre, with major department stores including Stockmann, Sokos and Aleksi13. Fashionistas are likely to enjoy a trip to the Kluuvi shopping complex, while the Kiseleff Bazaar is perfect for those looking for presents and souvenirs.
Excursions
Tallinn is close enough for a day trip, making Helsinki the perfect twin-destination holiday experience. You can also explore the countryside just outside Helsinki, visit the idyllic town of Porvoo or head to Turku and the archipelago on the west coast.
Family
Helsinki is well-equipped with attractions for all ages, including Helsinki Zoo, Linnanmaki Amusement Park, Seurasaari Island, Tuomarinkyla Children's Museum and the Lego Show in the summer. You could also take the kids go-karting or snowboarding, or perhaps go ice skating in the winter and have a picnic in one of Helsinki's beautiful parks in the summer.
Getting Around
The main forms of public transport in the city include buses, trams and the metro. Look out for tourist passes allowing unlimited access to a variety of transport across Helsinki. You can also hire a car, take a taxi or hop on a ferry.