Heraklion Travel Guide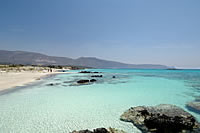 Heraklion is the largest city on this island and serves as a gateway for visitors to the beautiful Crete landscape and other resort towns of Agios Nikolaos, Almirida, Chania, Elounda, Hersonissos, Kalives, Malia and Rethymnon.
Location
North mid coast of the Island of Crete
Climate
Mediterranean climate – mild winters (average 13-16 degrees Celsius), hot dry summers (average 27-33 degrees Celsius)
Currency
EURO
Time Difference
GMT +2 hrs
Transfer Time
From Heraklion Airport transfer times to the following resorts are: Agios Nikolaos (1hr 30 mins), Elounda (2 hrs 30 mins) and Rethymnon (2hrs 30 mins). From Chania Airport, the transfer time to the resorts of Almirida, Georgioupoulis and Kalives is approximately 30-40 minutes.
Hotels
Heraklion and other resorts in Crete offer fine accommodation from local budget pensions and self-catering to deluxe standard resort hotels.
Attractions
Crete has many historic and cultural sites to visit such as Franchise Castle and Crysoskalitissa Convent. It also has some of the most beautiful beaches in the Mediterranean at Vie and Elafonisi
Shopping
Heraklion and the other Crete towns have something for all shoppers. Everything from local handicrafts (eg Cretan ceramics, crochet, embroidery and lace), souvenirs and Cretan wines to designer boutiques and international chain stores. Many of the resorts also have a lively nightlife in local bars and discos.
Excursions
Spend a few hours exploring the Minoan Palace of Knossos located approximately 3 miles southeast of Heraklion. For the energetic take a walking tour down the beautiful Samaria Gorge – this 11 mile hike will reward you with an abundance of local wildlife and fauna. Take a drive to the only lake on Crete (Lake Kournas approx 50km west of Chania) and then have lunch at one of the Tavernas in the area. Crete also boasts some 3,000 caves to explore – eg Sentoni, Ideon and Kamares to name a few.
Family
Crete is an ideal destination for families. Lots of beaches to explore and water activities are plentiful
Getting Around
Car hire is recommended to take in the many sites and towns on the island of Crete. Local buses do operate between the main towns.