Phuket Travel Guide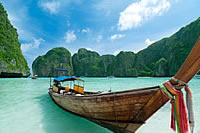 Phuket is known as the Pearl of the Andaman Sea, a name that adequately sums up its best qualities. This haven of an island offers holidaymakers the ideal sunshine break, complete with perfect beaches, clear blue waters and plenty of entertainment. While it's the busiest Thai destination in terms of tourists, don't be put off - there's more than enough of Phuket to go round.
Location
Off the south-western coast of Thailand
Climate
Phuket enjoys a tropical climate, but is subjected to monsoon rains between May and November, making the period between December and April the best time to go. However, the first half of the year tends to see the highest temperatures. On average, you can expect to see temperatures vary between 23 and 33 degrees C.
Currency
Thai baht
Time Difference
GMT +7
Transfer Time
Direct flights to Phuket are available, while regular connections run between Bangkok and the island. Phuket International Airport is situated about 30 kilometres to the north of the main city. Taxi fares from the airport can range from 400 to 600 baht (£6.85 to £10.30), depending on whether you want to go to the city centre or to the beach. An hourly shuttle service is also run by Phuket Limousine.
Hotels
Phuket is home to wide variety of accommodation, ranging from traditional hotels and resort lodgings to serviced apartments and fully furnished houses. Travellers will find room rates starting at less than 500 baht per night and may be able to negotiate rates in person to get an even cheaper price.
Attractions
There is more to Phuket than its beautiful beaches - although these may well be the sole point of interest for sun-worshippers. Wat Chalong is the most famous Buddhist temple in Phuket and is located to the south of the island, while Wat Phranang Sang is another interesting temple situated some 20 kilometres from the main city. Other attractions include the Two Heroines Monument, the Thalang National Museum, Sirinat National Park and the Phuket Cultural Centre.
Shopping
If you're just looking for souvenirs and local goods, head to Patong Beach, where you'll find a variety of shops and stalls selling all kinds of curiosities. There are a number of specialist shops selling items such as antiques and designer clothing, but for the most part you'll find that Phuket's wares are aimed at tourists. As a result, prices can be relatively high, so try a little haggling to see if you can lower the cost.
Excursions
You can get a few day trips out of visiting nearby islands, such as Ko Nakha Noi to the north, Ko He - which boasts spectacular white sand beaches - to the south-west and the peaceful Ko Lon to the south. Alternatively, why not head to mainland Thailand and spend a weekend exploring the historic and picturesque area of Krabi?
Family
Phuket is home to a zoo, an orchid farm, a butterfly farm, a seashell museum and more, providing enough entertainment for all the family. The main attraction is probably the Fantasea theme park, but this is only open in the evenings. The kids are also likely to enjoy activities such as elephant riding and going on safaris.
Getting Around
Buses probably comprise the cheapest way to get around the island and visit all of the major points of interest. In terms of taxis, if you're travelling a long distance it may be cheaper to get a yellow and red taxi that offers metered fares, as opposed to the unmetered tuk-tuks, which come in the form of bright red minivans. You can also rent a car or motorbike, but the generally poor quality of some of the roads could prove to be an obstacle when attempting to quickly zip around Phuket.