Houston Travel Guide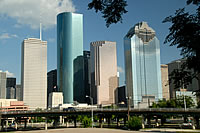 The fourth-largest city in the US, Houston was founded in 1836 on the banks of the Buffalo Bayou creek. As the largest city in the state of Texas, Houston is a sprawling metropolis and one of the US' main oil centres. Sometimes nicknamed Space City, Houston is home to the Johnson Space Centre and NASA's mission control.
Location
Texas, USA
Climate
With a subtropical and humid climate, Houston is perhaps best enjoyed outside of the summer months. Temperatures regularly reach the mid-30s during July and August and it's literally possible to fry an egg on the city's streets. A hotel with air-conditioning is an absolute must and it's advisable to pack a waterproof jacket as summer thunderstorms are fairly common. November-February is the driest and coolest time to visit the city.
Currency
US Dollar
Time Difference
GMT -6
Transfer Time
Houston's two airports, the William P Hobby Airport and the George Bush Intercontinental Airport, are both served by public buses. However, it's worth noting that services are rather limited and the easiest way to get to the city centre is by taxi or private shuttle bus. Rental cars are readily available at both airports.
Hotels
As with the majority American cities, visitors will find a range of accommodation to suit all budgets, from basic motel rooms to up-market suites. As a business centre, many rooms are cheaper at the weekend, but its worth remembering that Houston has a hotel tax of 17 per cent.
Attractions
Houston is home to many exciting attractions and museums, but arguably the most popular of all is the Johnson Space Centre. Here visitors can ride in a shuttle simulator, see how it feels to be an astronaut and take a behind-the-scenes tour of NASA's mission control. Other Houston attractions worth a visit include the Forbidden Gardens, Kemah Boardwalk and the Houston Museum of Natural Science.
Shopping
Located in Houston's uptown district, the Galleria mall is one of the city's most popular retail centres and is home to almost 400 outlets. Shoppers will find dozens of famous US stores including Macy's, Nordstorm and Tiffany and Co.
Excursions
There are plenty of excursions on offer in Houston and it's well with escaping the city for a day to explore other areas of Texas. Whole-day trips are available to the San Jacinto Battleground Historical Complex, which is around 20 miles east of Houston and is the spot where Texas won its independence from Mexico back in 1836. Excursions are also available to Galveston Island, which is located on the Gulf of Mexico.
Family
Houston is a great place for kids and there are plenty of top-class attractions to keep the little ones entertained. Aside from the Johnson Space Centre, which is sure to be a hit, Houston is home to a large aquarium, featuring more than 40 difference species. Those visiting the famous Downtown Aquarium can travel through the centre of a shark tank by train and enjoy dinner in an aquarium restaurant. Other family attractions in Houston include the SplashTown Water Park and Houston Zoo, which is home to over 500 species of animal.
Getting Around
The easiest and most convenient way to get around Houston is by car, with rental vehicles available fairly cheaply at both of the city's airports. For those who don't fancy driving, a large bus network and light-rail system also serve the city, but it's worth noting that these networks are geared towards commuters and do not operate as extensively at the weekend.