Hurghada Travel Guide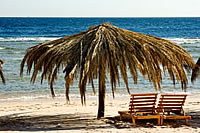 Sunny Hurghada is one of the most popular seaside destinations in Egypt. The resort started life as a fishing village but rapidly grew to become one of the country's most important towns. As well as the usual beachside lazing, visitors can enjoy activities as diverse as quad biking and camel riding.
Location
East coast of Egypt by the Red Sea
Climate
Hurghada remains dry and warm year-round, thanks to its desert location. It can get uncomfortably hot during the summer months, however, so the winter may be the best time to go, when temperatures generally hover in the mid-20s degrees C.
Currency
Egyptian pound
Time Difference
GMT +3
Transfer Time
Flights are available direct to Hurghada, although some airlines may require a stopover or change in Cairo. The airport is located some 5km south of the town, with taxis comprising the main mode of transfer between the two points. The journey can take up to 45 minutes, depending on where you intend to travel to.
Hotels
The town centre is home to some remarkably cheap hotels. If you want to splash out, the five-star Oberoi has every luxury you might possibly want. More moderately priced establishments include the Zak Royal Wings Hotel and the Coral Beach Rotana Resort.
Attractions
Diving and snorkelling in the Red Sea comprise Hurghada's main attractions - the coast is home to some beautiful coral reefs. You can also go windsurfing, parasailing and jet skiing, or perhaps take a boat trip or explore the desert. Try sampling the local cuisine, particularly drinks such as karkaday and chi.
Shopping
Shops to serve all your souvenir needs are located in the town centre and along the beach. The Ed-Dahar quarter is also home to a small souk if you fancy trying out your haggling skills.
Excursions
Regular excursions to Cairo and Luxor are available from Hurghada. You can also head deeper into the desert, or travel to the Giftun Island National Park or the monasteries of Saints Anthony and Paul.
Family
Hurghada's resort hotels are likely to provide plenty of entertainment for holidaymakers with children. However, it's worth leaving the hotel and taking the kids on a trip in a glass-bottomed boat to see something of the area's spectacular sea life, as well as checking out the child-friendly water sport offerings available.
Getting Around
Minibuses comprise the most common form of public transport in Hurghada, replacing traditional taxis, while ferries are also on hand to take holidaymakers further along the coast.