Jersey Travel Guide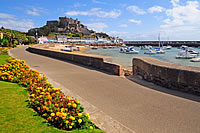 Jersey is an excellent all year round destination. The island offers great beaches, beautiful marinas and harbours, quaint villages and towns, historic buildings and sites to explore and a climate that encourages you to take advantage of the many outdoor activities available.
Location
Channel Islands (off the French Coast)
Climate
Compared to the British mainland, Jersey experiences hotter summers and milder winters.
Currency
Sterling, although Jersey has its own notes and co
Time Difference
GMT
Transfer Time
Jersey Airport is located approximately 5 miles from the town centre of St Peter. A public bus goes to most of the major towns and departs from the arrivals hall at the airport approximately every 30 minutes. Taxis are also available.
Hotels
A wide selection of accommodation is available on Jersey - bungalow style tents on campsites, self catering apartments in modern and traditional buildings, Bed and breakfast in small and friendly hotels or five star luxury hotels.
Attractions
Jersey has many attractions including The Elizabeth Castle, museums, Fort Regent Leisure and Entertainment Centre, arts and crafts centres, The Shell Garden Jersey, Gerald Durrell's Zoo.
Shopping
The main shopping centre is located in Jersey's capital of St Hellier. You will also find the finest of British, French and international cuisine at the many cafes and restaurants. A lively nightlife can also be found at one of the many Pubs and Nightclubs on the island.
Excursions
Coach tours around Jersey's many sights and attractions are available. For the rambler there are a multitude of walks and footpaths to explore.
Family
Jersey offers a wide selection of indoor and outdoor activities to keep all the family entertained.
Getting Around
Walking is a pleasant way to explore the towns and countryside. There is also a limited public bus service between the major towns. However you may prefer to hire a car to see the island at your leisure.