Reykjavik Travel Guide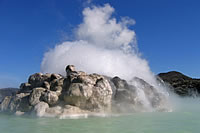 Holidaymakers looking for a truly different city break might want to head to Reykjavik. The Icelandic capital is a buzzing European city through and through, but is situated in a decidedly otherworldly landscape of volcanoes and soaring mountains. The locals are known for their love of a good time once the working week is over, making the city perfect for sightseeing during the week and partying at the weekends.
Location
South-west coast of Iceland
Climate
Reykjavik enjoys a warmer climate than most might give it credit for, thanks to the effect of the nearby Gulf Stream. However, it rarely gets hot in the city, with average summer highs generally hovering around the 14 degrees C mark. Average temperatures regularly dip below one degree C in the depths of winter, making the period between June and August the best time to go. Don't forget that Reykjavik also only gets two hours of sunlight a day during the winter months due to its extreme northern positioning.
Currency
Icelandic krona
Time Difference
GMT +1
Transfer Time
The main international hub in Iceland is Keflavik Airport, which is located about 31 miles from Reykjavik. Domestic flights are also handled by this hub and Reykjavik Airport. Travellers looking to travel to Reykjavik from Keflavik Airport can take the Flybus shuttle service, which also stops at selected hotels along the way, or alternatively rent a car or hire a taxi.
Hotels
Reykjavik offers a variety of accommodation to suit single travellers, couples, families and large groups. Hotels, guesthouses and apartments range from the basic to the luxurious, while visitors can sample a genuine slice of Icelandic life by renting a bed and breakfast room at a residential property. Hotel rooms can vary widely in price, but on average a single en-suite bedroom costs between £25 and £85 a night, with doubles falling into the £35 to £115 price bracket.
Attractions
Reykjavik is home to a number of impressive buildings that should not be missed out of any sightseeing itinerary. Check out the huge, modern Hallgrimskirkja Church, built to look like a series of volcanic basalt rock formations, or have a meal in the Pearl - a massive glass dome perched on top of five water tanks, one of which is home to a Viking museum. Or why not see a piece of history in the form of Hofdi House, where presidents Ronald Reagan and Mikhail Gorbachev held a meeting that brought the end of the Cold War in 1986?
Shopping
If you're after a new wardrobe, the city's shops and malls offer a balanced mix of established labels and clothing from up and coming designers. In the city centre, you can browse bookstores and buy souvenirs, while further out you'll be able to visit the Kringlan and Smaralind shopping centres for goods with high street names.
Excursions
The rich landscape around Reykjavik holds a plethora of day trip opportunities for visitors to the city. Try a spot of whale and puffin watching, or take a swim in the naturally hot waters of the Blue Lagoon near Keflavik Airport. If you want a more active pursuit, you can go horseback riding in the countryside and take hiking tours around the region.
Family
Little ones will love Reykjavik's spectacular setting and the wealth of activities available in the city. Most thermal pools offer children's play facilities, while feeding the ducks at Lake Tjornin is a popular pastime for both kids and adults. Meanwhile, Reykjavik Zoo and Family Park is the ideal destination for a fun day out.
Getting Around
Public transport in Reykjavik is excellent, if a tad expensive. If you think you will be using the bus network regularly, it might be an idea to buy a one, two or three-day pass to save money. Taxis are also on hand for a quick lift, but the best way to see this compact city is probably on foot.