Kuala Lumpur Travel Guide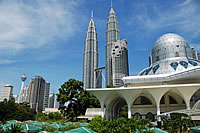 Kuala Lumpur stands proud as the largest city in Malaysia, a centre of modern culture surrounded by ancient monuments. Since its period as a British colony it has rocketed into the future with an amazing display of modern architecture, reinforced by a forward-thinking culture which has retained its national heritage. This is the perfect base to explore Malaysia or to relax in the heat of the sun in total, perfectly designed, luxury.
Location
Western Malaysia
Climate
Weather in the region is characterised by hot, tropical temperatures and heavy rainfall which remains fairly constant throughout the year. However, days are generally dry for easy sight-seeing, just make sure you're near cover for the magnificent downpours which generally arrive in the evenings and give Malaysia its luscious environment. Temperatures are between 22 and 33 degrees C, with rainfall of over 100 mm per month.
Currency
Malaysian Ringgit
Time Difference
GMT +8
Transfer Time
Kuala Lumpur International Airport is served by Express Coaches, which take passengers from the airport main terminus to hotels in the city centre, at a journey time of around an hour. Train is also a popular option, with an Express Link to KL Sentral for RM 35 for the 28 minute journey. A return trip will cost around RM 45 for adults, RM 25 for children. Visitors also have a choice of four types of taxi, from budget to super luxury, offered by Airport Limo which has counters in the Main Terminal Building.
Hotels
Accommodation such as the Impiana KLCC Hotel & Spa or the terribly fashionable Concorde Hotel Kuala Lumpur are situated at the heart of the city centre. Staying in this region allows easy access to the Petronas Twin Towers and modern shopping centres. The city's Hilton is conveniently located near the KL Sentral train station and boasts a unique 120-metre freeform terrace pool to make your holiday extra-special.
Attractions
The first stop on any trip to KL has to be the famed Petronas Towers, which soar over 450 metres above the city streets. Although ostensibly home to the country's national petroleum company, they're now a tourist hotspot because of the phenomenal views offered on the Skybridge. A limited number of tickets, one-per-person, are made available daily from the basement from 8.30 am. Other must-see sights include the National Zoo and Aquarium, the beautiful National Library and the sites of Chinatown, such as the Chan She Shu Yuen Temple Library.
Shopping
The Central Market is a great place to head for local arts and crafts, as well as entertainment from the vast array of demonstrations and plays performed daily. However, a particularly magical experience can be found at the Petaling Street night-market, a sparkling hub of activity where traders punt their wares under the moonlight and crowds gather to soak in the atmosphere. More modern shopping treats can be found in the KLCC region, where bargains can be found in centres such as Suria.
Excursions
Nature is easily accessible from Kuala Lumpur, with trips available to sites such as the Bukit Nanas Forest Reserve, which features a variety of wildlife and long walks thorough the region. Another area well-worth a look is the Batu Caves, eight miles from the city, a collection of wonderful limestone rock formations and Hindu Temples. The caves can be accessed by a 30 minute bus ride from the Central Market.
Family
A day trip to the Sunway Lagoon Themepark, 15 minutes from the city, offers an amusement, water, wildlife and 'scream' park all in one. Experiences include the 3D Terror Tunnel, the world's largest surfing pool, and an African-themed water adventure area, for a full day's entertainment.
Getting Around
Taxis are always available, and can be hailed on the street although tourists should check the current rates and agree a fee before setting off. However, buses, monorail and Light Railway are convenient and cheaper - check timetables with the Malaysia Tourist Information Complex.