Las Vegas Travel Guide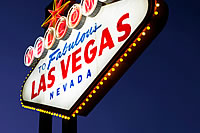 The spin of the roulette wheel, the clink of the cocktail glass, the rattle of the chips, the squeal as you win big. That's Vegas. Las Vegas is the glitziest city in the world and combined with modern hotels, great food and drink makes for a great holiday. But if all the excitement gets too much, the Grand Canyon and Death Valley are just a few hours away and highly recommended
Location
Southern Nevada, USA
Climate
Desert. Summer - Hot, up to 40 C; Winter - Mild, around 10-15 C
Currency
US Dollars
Time Difference
GMT -8 Hours
Transfer Time
The Las Vegas Strip is around 15 minutes from the airport
Hotels
Plentiful, high quality, reasonable rates especially during mid week and off season. Hotels on the Strip tend to be themed so expect everything from a half size Eiffel Tower & Arc de Triomphe at the Paris to realistic Canals (complete with gondolas!) at the Venetian.
Attractions
All of the main hotels on the Strip have shows - everything from Cabaret to Magic Shows to International bands.
Shopping
The Forum Shops (At Caesar's Palace) is a vast arcade of every kind of shop you could wish for. Also check out Belz Shopping Mall and The Fashion Show Mall for discount designer label shopping at a fraction of Uk prices!
Excursions
No visit to Las Vegas is complete without a visit to the Grand Canyon and yes, it as amazing as everyone says it is! Around 4 hours by coach from Las Vegas or around 1 hour by helicopter or light aircraft (Well worth it!). Also don't miss Hoover Dam and Death Valley or how about a trip to Area 51?
Family
Under 21's aren't allowed in gaming areas but most hotels are child friendly, If you have young children check out Circus Circus & Treasure Island.
Getting Around
Most of the exploring in Las Vegas itself can be done on foot or by bus however if you want to travel further afield or explore outside the city, a car is essential.