Lima Travel Guide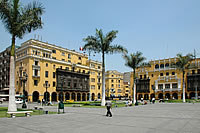 Peru's capital offers a good balance of bustling modern city life and historic and cultural attractions, while also being ideally located to strike out into the rest of the country. Visitors to Lima can also find much to do in the surrounding desert and mountain territory - meaning there's something for everyone, whether you're an indoors or outdoors person.
Location
Midwest coast of Peru
Climate
The period between December and April is probably the best time to go to Lima for sun worshippers, although it does get very warm and humid in the middle of the season. Average temperatures hover around the 18 to 19 degrees C mark, with average lows of 12 degrees C and highs of up to 30 degrees C.
Currency
Peruvian nuevo sol
Time Difference
GMT -5
Transfer Time
Jorge Chavez International Airport is located about 30 minutes from Lima in the Callao region. Taxi is the recommended method of transferring between the two points, as the bus service is not very handy for those with a lot to carry.
Hotels
There is plenty on offer for backpackers and affluent travellers alike. If cheap and cheerful is what you're looking for, you'll be able to find rooms ranging in price from £20 to £40 a night. Recommended lodgings include Barranco's Backpackers Inn and the Inka Lodge. Elsewhere, the Las Americas Suites and Casino and the Ariosto offer reasonably priced rooms, with the Miraflores Park Hotel and the Sonesta Posada del Inca El Olivar providing a more upmarket experience.
Attractions
If you have an eye for beautiful architecture, you should check out the colonial styles of Lima's main cathedral, the Convent of Santo Domingo and the Convent of San Francisco. Numerous museums showcase Incan and pre-Incan artefacts, while the extensive beaches are a great place to relax in once the sightseeing is over, as well as offering plenty of water sports.
Shopping
There is a wide range of Incan and other local souvenirs such as jewellery and clothing to be had throughout Lima. If you make a trip to the markets in Miraflores, don't forget to haggle your heart out for the best price. If you want a less challenging shopping experience, you could head to Conquistadors for more traditional shopping centres and boutiques.
Excursions
There is so much to see in the area around Lima you might have to make another trip to fit it all in. You could travel to Cuzco if you are particularly interested in finding out more about the ancient Incan civilisation, or check out the mountaineering centre at Huaraz. Elsewhere, Trujillo to the north offers up some intriguing ruins, while Arequipa, nicknamed the White City for its use of the local white sillar rock in buildings, is located to the south of Lima and has numerous attractions.
Family
If the kids are interested in nature and animals, Lima is an ideal place to visit. There are many opportunities to view its amazing sea life, while the Amazon rainforest also offers the chance to glimpse exotic wildlife. You could also have fun in the sand dunes around the city, go horse riding, indulge in some rafting or take boat trip.
Getting Around
Minibuses and vans provide many of the local bus services in Lima, while official taxis are a more convenient way of getting around. It is recommended to agree a fare before getting in the cab.