Lisbon Travel Guide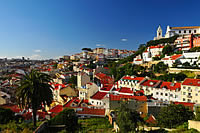 Lisbon is one of Europes most enjoyable but underrated cities. Having experienced regeneration over the last decade Lisbon is chic without being pretentious, retaining its original relaxed charm. Lisbon has many fine buildings, museums, restaurants and a great atmosphere.
Location
Lisbon is on the Central west coast of Portugal
Climate
Generally mild in winter - maximum temps 14-18 degrees Celsius. Summer is hot - maximum temps 27-33 degrees Celsius.
Currency
EURO
Time Difference
GMT +0 hr
Transfer Time
Lisbon International Airport is around 30-45 minutes from the city centre by taxi. Alternatively the Aero-Bus runs to the Cais do Sodre train station.
Hotels
Accommodation is varied from cheap budget hostels and small quaint locally owned pensions to superior deluxe international hotels.
Attractions
St George Castle, Gulbenkian Museum, Traditional Folk Dancing, The redeveloped dockland area offers great restaurants, bars and late night venues. Nearby beaches at Estoril and Cascais are also popular with locals and tourists alike.
Shopping
Popular shopping can be found at the Vasco Da Gama and Amoreiras Shopping Centres or the cluster of shops in the Baixa area. For the more upmarket clientele try the designer shops on Liberdada Avenue. Week-day shopping hours are 9am to 1pm and 3pm to 7pm.
Excursions
City tours are available taking in sites such as Black Horse Square, Belem Tower Jeronimos Monastery at the Expo '98 site.
Family
Family attractions include the Gulbenkian Planetarium, Vasco da Gama Aquarium and the Jardim Zoológico de Lisboa. Many restaurants have a family orientation and expect to see local families enjoying the cuisine at the table next to you.
Getting Around
Many attractions can be reached on foot. There are also taxis, double-decker buses (exports from London) and the metro is relatively cheap and comfortable. For exploring further afield car hire is recommended.