London Travel Guide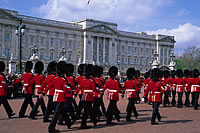 Whether you want museums, shops, restaurants, theatres, nightlife, tourist sights or all of the above; London is the place that has the lot. Fast paced, lively with plenty going on to amuse and entertain all the family all year round.
Location
South east England, UK
Climate
London is a year round tourist destination but the best weather is between May and October with temperatures up to the late 20's Celsius
Currency
UK Pound
Time Difference
GMT
Transfer Time
London is served by 3 main airports: Heathrow, Gatwick and City with another two Stansted & Luton being easily commutable within 60 minutes to Central London. There are rail links from all airports.
Hotels
There is a wide choice of hotels in London from hostels & B&Bs to exclusive 5 star hotels. Prices in Central London on the whole are above average compared to many european cities though there are many midweek and off season deals to be had.
Attractions
Houses of Parliament, Buckingham Palace, The London Eye, British Museum, Tate & Tate Modern, Science Museum, Natural History Museum, St. Paul's Cathedral, Westminster Abbey, West End Theatres, Knightsbridge, Hyde Park any much more!
Shopping
London is a shoppers paradise catering for every taste and budget. For clothes shopping try Oxford Street, Regent Street, Covent Garden, Kensington High Street. For Bric-a-Brac and Objet D'Art go to Camden market or Portobello Road
Excursions
Sightseeing tours on red London buses are very popular and are a great way to see the sights. Boat trips down the River Thames give great views of The Houses of Parliament, The London Eye, Canary Wharf & The City and more.
Family
With such a plethora of activities in London there is much for children to see and do. Most hotels and resaurants welcome children.
Getting Around
The London Underground ('The Tube') is the quickest way to get around London though there are many bus routes too and car hire is available, though walking provides the most coherent picture of London