Luxor Travel Guide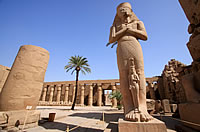 Luxor is probably most famous for its vast array of ancient historical buildings, artefacts and other objects, hence it being widely known as the world's greatest open air museum. However, there's much more to this Egyptian city than relics of the past, with the present very much alive and kicking in the form of a lively nightlife, cruises along the Nile and plenty of shopping.
Location
Southern Egypt
Climate
It can get extremely hot during the summer months in Luxor - in July temperatures regularly soar to about 41 degrees C, with night-time temperatures hovering around the 24 degrees C mark. It gets milder in winter with a daytime average of 14 degrees C in January.
Currency
Egyptian pound
Time Difference
GMT +2
Transfer Time
Luxor Airport is located about seven kilometres east of the city and is accessible via road, taking approximately 20 minutes to travel between the two points. A regular bus service is available, while taxis and car hire services are also on hand at variable prices.
Hotels
The bulk of Luxor's accommodation can be found in the busy East Bank area, with all budgets from no-frills backpacker hostels to five-star luxury well catered for. The big names are represented in the form of the Sheraton and Hilton and there are also a number of hotels currently being built in the West Bank area.
Attractions
here is no end of things to see in Luxor, so you might do well to make sure you have your days well planned out in advance. The 'must-see' attractions include the Valley of the Kings, where most of Egypt's pharaohs are buried, the city's various temples, the ruins of Medinet Habu and the spectacular Tombs of the Nobles. Luxor Museum and the awe-inspiring Colossi of Memnon are also well worth a visit.
Shopping
Luxor is home to a number of bazaars, antique shops, bookstores and more that are likely to offer up plenty of good ideas for gifts and souvenirs. Some of the prices may seem very high at first, but you'll soon find that these are aimed at unsuspecting tourists and the savvier visitor can usually haggle them down to something more reasonable.
Excursions
There are plenty of cruises along the Nile available if you fancy something sedate, or if you want to get some exercise why not hire a bike and explore what's left of the ancient site of Thebes? You could also visit Karnak, a complex of unfinished temples that show off the different architectural styles that reigned in Egypt across the ages, or travel to Esna and Dendera for more ancient sights.
Family
It might be an idea to escape the heat and head indoors while you have young ones in tow - the Mummification Museum is sure to fascinate both children and adults. If you insist on braving the high temperatures, why not go for a cooling boat ride, or get in a hot air balloon and see Luxor from the air?
Getting Around
It might be best to avoid walking during the hottest parts of the day and instead jump in a taxi or a horse-drawn carriage. If you're travelling a bit further afield you can hire a bike or hop on a boat. Again, prices can be haggled down if you feel they're higher than the normal rates.