Lyon Travel Guide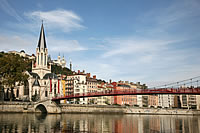 Bustling Lyon has much to offer those looking for a sophisticated city break. One of the largest cities in France behind Paris, Lyon offers attractions such as beautiful Renaissance architecture, exquisite food, a host of museums and a packed events calendar - the only problem for holidaymakers in the city is how to fit all of this into the space of a few days.
Location
Central eastern France
Climate
Lyon enjoys summer highs of about 27 degrees C in July and August and between six and seven degrees in winter. Temperatures can dip as low as 0.1 degrees C in January however. Spring and autumn see more moderate temperatures, offering the ideal times to go if you're not keen on extreme weather.
Currency
Euro
Time Difference
GMT +1
Transfer Time
Saint Exupery Airport is located some 25 kilometres from the centre of Lyon. Rail connections to the city are available from the hub, as well as road links via taxi, private hire car and shuttle bus.
Hotels
Lyon is home to almost 300 hotels offering in excess of 11,000 rooms, meaning that there is plenty of choice for holidaymakers. Visitors can choose from upmarket establishments such as the Cour des Loges, the College Hotel, the Libertel Beaux-Arts and the Hotel Le Royal, as well as budget accommodations such as the Hotel des Artistes and Hotel Alexandra.
Attractions
Lyon's most popular sights include the Place Bellecour plaza, the city's very own Eiffel Tower in the form of the Tour Metallique de Fourviere, Lyon Cathedral, the Basilica Notre-Dame de Fourviere, the medieval quarter and the Gallo-Roman Museum. The Opera House and the Celestins theatre offer further diversions for those looking to explore the city by night.
Shopping
The Le Carre d'Or area of the city is home to a plethora of boutiques, while designer stores such as Dior, Louis Vuitton, Hermes, Mont Blanc, Escada and Cartier can be found on the Rue Edouard Herriot. High street shops are located in the area between Rue Victor Hugo and Rue de la Republique, while Le Passage Thiaffait and Old Lyon are perfect for those looking for unique, offbeat items.
Excursions
The Rhone-Alpes region is home to a number of things to see and do when heading out of Lyon's city boundaries. You could go skiing and hiking in the mountains, play golf at one of the 60 courses situated in the region, go on wine tours in Beaujolais and the Cotes du Rhone or head to southern Rhone-Alpes for spectacular scenery and relaxing activities.
Family
Lyon has numerous festivals, shows, activity parks and urban leisure centres that cater for children, while kids are likely to enjoy checking out the local wildlife at the various nature reserves located in the Rhone-Alpes area. The summer mountain resorts also offer a host of activities for all the family.
Getting Around
Public transport in Lyon consists of train, bus and tram services. Visitors would do well to get hold of the Lyon City Card, which offers free travel and entry to some of the city's biggest attractions and tours. If you're heading out of Lyon, rail links are available to various destinations throughout the Rhone-Alpes region.