Montego Bay Travel Guide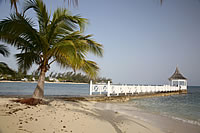 Montego Bay is a destination that has something for everyone. Located in a prime position on the coast of Jamaica, the city buzzes with tourists, shoppers, businessmen and locals, who are all surrounded by spectacular scenery. Whether you're after a sun-soaked holiday or a busy city break, you're likely to be spoilt for choice.
Location
On the west side of the northern coast of Jamaica.
Climate
Montego Bay enjoys a tropical climate without quite as much rain as other parts of the Caribbean, mostly thanks to the shelter afforded by the nearby mountains. Typical daytime temperatures can reach 30 degrees C, while at night-time they tend to drop to a slightly less sultry 20 degrees C.
Currency
Jamaican dollar
Time Difference
GMT -6
Transfer Time
The main airport for Montego Bay is Sir Donald Sangster International Airport and is accessible via a shuttle service for customers of specific hotels, hired car and taxis. There are two main taxi firms that operate from the airport, which have their own official desk outside the customs exit.
Hotels
Montego Bay is home to numerous types of lodgings. In Jamaica in general, the cheapest rooms start from as little as £10 a night. Even the more expensive accommodation is actually relatively cheap; you may be able to grab yourself a luxury room for a paltry £30 a night if you know where to look.
Attractions
The first thing to do in Montego Bay is check out the beach. As well as mile upon mile of golden sands, you will also find coral reefs and beautiful lagoons. If you're a reggae fan, you'll want to check out the Bob Marley Experience complex, where you can watch a documentary about the man himself and immerse yourself in all things Marley. If you fancy giving yourself the creeps, visit the Rose Hall Great House, which is said to be haunted by a white witch.
Shopping
Head to Montego Freeport or the city centre for the big name shops, or visit Old Fort Craft Park if you're looking for some quality local goods. There are also plenty of stalls and markets to browse while wandering through Montego Bay, but be sure to stay wary of peddlers who will attempt to sell you something even if you do not want anything.
Excursions
Located around 23 miles east of Montego Bay is Falmouth, a Georgian town steeped in history and perfect for those looking for some culture, while south of the bay is Lethe, from which active types can attempt to go rafting on the Great River. There is also lots of spectacular scenery to gaze at in Montego Bay's immediate surroundings.
Family
The kids are likely to enjoy Montego Bay Marine Park for its watersports and more, while animal lovers may be interested in heading to the Rocklands Wildlife Station to the south, where there are more birds than you can shake a stick at. Of course, the beach should be the default option for those days when all you want to do is laze in the sun.
Getting Around
The bus services in Montego Bay are not particularly regular, so it's best to grab a taxi instead. However, the city centre is fairly pedestrian-friendly, so don't be afraid to explore the area on foot.