Orlando Travel Guide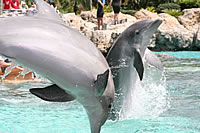 Orlando is the gateway to Walt Disney World, Epcot Centre, Universal Studios, Kennedy Space Centre, Sea World, Wet and Wild and countless more theme parks and attractions. It's great for the kids (and the big kid in you too!) and great year round weather makes orlando the number 1 holiday destination in the UK.
Location
Florida, South Eastern USA
Climate
Orlando is popular all year round and even in January temperatures can reach 20C. July and August are the hottest and most humid months. Early summer and early autumn are good times to vist.
Currency
US Dollars
Time Difference
GMT -5 hours
Transfer Time
Orlando International Airport is 9 miles southeast of downtown Orlando and 22 miles northeast of Walt Disney World. There is a good bus service from the airport to downtown Orlando, though car hire is strongly recommended.
Hotels
Orlando has the second highest number of hotel rooms in the US (Las Vegas has the most) and accomodation is plentiful and cheap. Overall quality is high and accomodation ranges from motels and B&Bs to 5* Hotels
Attractions
Where to start? Walt Disney World (incorporating Magic Kingdom, Epcot Centre, MGM studios theme park) Wet & Wild, Sea World, Universal Studios.
Shopping
There is no end of shops in the theme parks of Orlando offering tourist souvenirs, clothing, beachwear etc. Downtown Orlando has larger department stores and boutiques.
Excursions
Kennedy Space Centre, Fort Lauderdale, Daytona Beach, Merritt Island National Wildlife Refuge, Blue Spring State Park
Family
The whole of Orlando is geared to towards the family and having fun. Kids cannot fail to have a good time, adults too. Probably the best family resort in the world.
Getting Around
There is a good bus service operating in Orlando but as most of the theme parks and attractions are ouside of the city, car hire is essential.