Muscat Travel Guide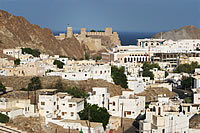 If you fancy a trip to the Middle East but want an alternative to Dubai, then you can't go far wrong with Muscat. The capital of Oman is packed with enough history, sights and interesting architecture to satisfy the most ravenous of culture vultures. Its picturesque mountainous surroundings, meanwhile, offer endless opportunities for those looking for a bit of adventure on their break.
Location
Northern Oman
Climate
Muscat has something of a humid atmosphere for most of the year, but holidaymakers travelling to the city between December and March are likely to enjoy more pleasant weather. Temperatures can soar as high as 38 degrees C in May, while hovering between 15 and 20 degrees C in winter.
Currency
Omani rial
Time Difference
GMT +4
Transfer Time
Seeb International Airport is Oman's main hub for flights to and from other countries. If you're planning to take a taxi to your hotel in Muscat, it is recommended that you pay the fare in advance at the taxi counter outside the arrivals area of the airport. A microbus to Muscat also stops at a roundabout located 300 metres from the hub.
Hotels
There are plenty of luxury and mid-range hotels to choose from in Muscat, including the Shangri-La, the Grand Hyatt and the Chedi Muscat. Budget travellers are also well catered for in the form of the Dream Resort, the Best Western Muscat and the Majan Continental.
Attractions
Some of Muscat's finest architecture can be found in its mosques. Try visiting the Grand Mosque in Al-Ghubrah - the third largest mosque in the world - for the ultimate experience. Elsewhere, the city is home to numerous forts and souks (markets), such as the Mutrah souk and the Al Jalali and Al Mirani forts. Meanwhile, the Bait az-Zubair Museum is ideal for those looking to immerse themselves in some history.
Shopping
As previously mentioned, there are plenty of souks to choose from if you fancy your chances in the haggling stakes. You could also visit the Seeb mall, which is the biggest in the city, for a more modern shopping experience.
Excursions
You could head to the mountains and visit the village of Bilad Sait, or take a trip to the desert and indulge in some dune driving. Or why not watch some camel races, go horse-riding or take part in a night safari instead?
Family
The Children's Museum is ideal for those with young ones to entertain (and educate), or you could treat the kids to a spot of dolphin and turtle watching on the sea.
Getting Around
Muscat benefits from a decent bus network that covers most of the city. Different types of taxi, such as the van 'maxi taxis' and more traditional but less cheap taxi cars, are also on hand for a less crowded journey.