Melbourne Travel Guide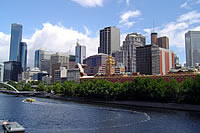 Melbourne is the perfect destination for those with wide-ranging cultural tastes. The Australian city has it all - fine art, museums, plays, music and a buzzing nightlife. If you're a nature lover at heart, scenic views can be found just outside the city.
Location
South-east Australia
Climate
Melbourne has a moderate but unpredictable climate. Summers can be hot, with average temperatures seeing highs of about 26 degrees C in January and February. Winters are fairly cold, with average lows of six degrees C seen in July. The spring and autumn seasons can be very pleasant for visitors looking to avoid extremely hot or cold conditions.
Currency
Australian dollar
Time Difference
GMT +10
Transfer Time
Melbourne Airport is situated about 22 kilometres from the city centre, or 25 minutes by road. You can hire a car, take a taxi for about A$40 (£19) or catch the Skybus Super Shuttle between the two points.
Hotels
If you like to wallow in luxury, try the sleekly designed Adelphi Hotel or the boutique styling of Hotel Lindrum. The Ibis hotel on Little Bourke Street offers moderately priced comfort for those just looking for a decent place to sleep in, while a raft of backpacker hostels, bed and breakfasts, caravan parks and more are available for those on a tight budget.
Attractions
The Southbank precinct is home to some of Melbourne's best cultural attractions, including the Victorian Arts Centre and the National Gallery of Victoria's international collection. The Golden Mile, meanwhile, is a four-kilometre stretch of trail displaying the best of Melbourne's gold rush architecture. You could also hit the beach for some sunbathing or indulge in a spot of golf.
Shopping
Melbourne plays host to a wide variety of shops and stores. The central business district contains a number of quirky and designer boutiques, while markets around the city provide great souvenir bargains. One of the best ways to shop in Melbourne, however, is to simply stroll around its little laneways and arcades and head into whatever shop looks the most interesting.
Excursions
The rest of Victoria has plenty of opportunities for day trips and weekends away. You could explore the wineries of the Yarra Valley, or take to the Great Ocean Road for sea views and constant beachside fun. Daylesford and the Macedon Ranges, meanwhile, is the perfect destination for a relaxing weekend away from the bustle of the city.
Family
There's plenty for children to get stuck into in Melbourne, whether it's marvelling at sea life in the Melbourne Aquarium, experiencing some hair-raising rides at Luna Park or learning about animals at Melbourne Zoo. Kids are also likely to enjoy a trip on the Giant Sky Wheel and a cruise down the river.
Getting Around
Melbourne enjoys the convenience of an integrated train, tram and bus network. You can get tickets for access to all three types of service, or you could simply catch a taxi, hire a bike or car, hop on a boat down the river or explore the city on foot.