Miami Travel Guide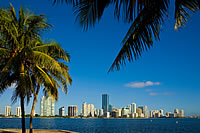 A holiday in Miami with its world famous beach, art deco architecture, the Evergaldes National Park and lively party atmosphere is a great alternative to Orlando. Miami is the perfect holiday destination to combine sun, fun, culture and nightlife. Don't miss the nearby Florida Keys, Little Havana and South Beach too.
Location
Florida, South Eastern USA
Climate
Miami is hot all year round but a good time to visit is December to June. Temperatures can get extremely high with opressive humidity and thunderstorms in August. NB: June to November is hurricane season.
Currency
US Dollars
Time Difference
GMT -5 hrs
Transfer Time
Miami International is 12 miles from downtown Miami. Buses are available but renting a car is far more convenient. Shuttles and taxis are also available.
Hotels
Hotels are of an excellent standard following an 80's boom which saw many rebuilt or modernised. Rates vary considerably throughout the year and you are spoilt for choice. Rates are lower off South Beach.
Attractions
Miami Beach, South beach, Ocean drive, Little Havana, Art Deco Architecture (Art Deco Historic District), Miami Museum of Science & Space Transit Planetarium, Miami Seaquarium, Cape Florida State Recreation Area
Shopping
Fashion shopoholics will be in seventh heaven! Shopping is a favourite pastime in Miami and there is a diverse range. Prices aren't cheap, especially at the designer end but there are many mainstream outlets too.
Excursions
Everglades National Park, Florida Keys, Fort Lauderdale. Diving & snorkeling at Key Biscayne, Kayaking.
Family
There are many activities and attractions in or around Miami that are suitable for children of all ages and Miami has one of the best beaches around.
Getting Around
Miami's local transport system is pretty poor and getting around can be problematic. Car hire is recommended, at least for part of your stay.