Malta Travel Guide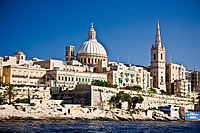 On the crossroads between Africa and Europe, the island of Malta has a rich and diverse cultural history with Romans, Greeks, Byzantines, Phoenicians and of course British all leaving their influence. The gentle Maltese people are friendly, welcoming and speak English.
Location
Southern Mediterranean Island
Climate
Mediterranean climate – mild winters (average 15-20 degrees Celsius), hot summers (average 27-30 degrees Celsius)
Currency
EURO
Time Difference
GMT +2 hrs
Transfer Time
Malta International Airport is only 3 miles from the capital Valletta. Transfer times vary from approx 20mins for those in and around the capital to approx 40-50 minutes for the outreaching bays of St Julians and St Pauls
Hotels
A variety of accommodation to suit all tastes is available. Enjoy a luxury hotel or club resort on the seafront in one of the many bays or choose a self-catering option in one of the many apartments and aparthotels. For a more traditional feel in the inland regions you can stay in a villa, farmhouse or even one of the picturesque baroque castles.
Attractions
Year round sunshine, beaches, swimming, snorkelling, diving, countryside walks, horse riding, golf, theme parks, excellent restaurants and cuisine, exciting nightlife, clubbing and casinos.
Shopping
Shopping is plentiful - find local arts and craft in the old shops in Valletta, the latest contential fashion in the Shopping plazas or souvenirs and other bargains in one of the colourful markets.
Excursions
A trip to Sweethaven Village (the film site of the musical Popeye) is a must for children and adults alike. Try island hopping to Comino with its famous Blue Lagoon or the picturesque island of Gozo Island with its beautiful landscape, sleepy villages, quiet bays and excellent diving. Other excursions include Jeep Safari, Rock Climbing and Harbour cruises.
Family
Families are welcome in Malta and there are plenty of activities (see attractions above) to keep children entertained. Many of the hotels offer special child prices, kids clubs and babysitting on request.
Getting Around
Local buses provide access to most of the island, though for greater flexibility you may prefer to hire a car – rates are reasonable.