Mauritius Travel Guide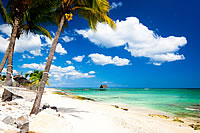 This tropical island nation has everything a holidaymaker might want for the perfect break. Sunshine, golden beaches, clear blue waters and plenty of things to see and do can be combined for the perfect sun-filled getaway. Its unique mix of cultures - French, Indian and British - also means that visitors can enjoy a melting pot of cuisine, architecture and history every day.
Location
Off the African coast, to the east of Madagascar
Climate
Mauritius enjoys a tropical climate that is humid and sticky between December and April but perfectly warm between May and November. Coastal temperatures can range from 22 degrees C in the winter to a sizzling 34 degrees C in the summertime, with temperatures in the central region of the island being somewhat cooler.
Currency
Mauritian rupee
Time Difference
GMT +4
Transfer Time
Sir Seewoosagur Ramgoolam International Airport is the main hub for the island and is located around 50 kilometres south-east of Port Louis, the capital. Express bus services are available between the two points, although there are no dedicated shuttle buses. Car hire facilities and taxis are also on hand for a quick lift.
Hotels
Average hotel room prices can range from as low as 300 rupees (£5) a night for the cheapest lodgings, with mid-priced rooms generally hovering around the 2500-rupee (£40) mark. Of course, if you want to splash out there's a range of luxury accommodation to choose from, which may cost anything from 10,000 rupees (£162) a night.
Attractions
Grand Bay is very much tourist-oriented and offers a plethora of shopping and leisure facilities by day and is busy with revellers heading from bars and restaurants to clubs and discos at night. If you're looking to soak up some culture, check out Balaclava Ruins near Baie aux Tortues or the huge Maheswarnath Hindu temple at Triolet Shivala. Further inland, the Black River Gorges national park and the natural lakes of Ganga Talao and Grand Bassin offer some memorable scenery to gaze at.
Shopping
Bargains can be had at any of the tourist-friendly tax-free shops around the island, whether you're after locally-made clothing, exotic spices or a dash of rum. Port Louis has an interesting market and a number of boutiques for that one-off gift, while beach sellers are often to be found around the coast with a host of jewellery and ornaments for sale.
Excursions
The volcanic Rodrigues Island, located to the east of Mauritius, is a must-see location for nature lovers, as it is home to a number of rare species and intriguing coral reefs. You could also hop west to Madagascar and check out its spectacular rainforests and rocky scenery.
Family
Resorts such as the Waterpark Leisure Village offer much entertainment for adults and children alike, but if you want to do something a little different, why not take the kids bird-watching in the Domaine des Grand Bois or the Casela bird park? Or you could perhaps get to grips with the interactive L'Aventure du Sucre exhibition in central Mauritius, which explores the island's past exploits in the sugar cane trade.
Getting Around
Cheap buses operated by a number of different companies collectively cover most destinations on the island. Driving or riding a hired car or motorbike is an option, but can be hazardous due to the poor quality of some roads.