Munich Travel Guide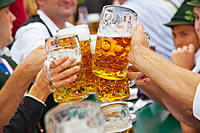 Munich situated on the River Isar, is the capital of Bavaria and is not only the home of the famous 'Oktoberfest' but also offers the visitor a wonderful insight into local folklore, culture, art and history. The surrounding countryside also offers fantastic scenery from beautiful lakes to the majestic Alps.
Location
Southern Germany
Climate
Munich has very cold winters (average daytime temperatures of 0-5 degrees Celsius) but pleasant summers (average daytime temperatures of 20-25 degrees Celsius)
Currency
EURO
Time Difference
GMT +1 hrs
Transfer Time
The Franz Josef Strauss Airport is situated at Erdinger Moos approx 20 miles northeast of the centre of Munich.Train and buses operate from the Airport to the Munich city centre.
Hotels
Accommodation is plentiful from budget hostels to luxury international and traditional Bavarian hotels and pensionen
Attractions
Munich is steeped in cultural and art history and a visit to one or more of its many museums and galleries is a must (eg Alte Pinakothek, State Gallery of Modern Art or the Bavarian National Museum). Relax in 'The English Gardens' or spend a day enjoying the activities on offer at the Olympic Park. Other attractions include Bavarian Castles, Palaces, Churches and of course if you are in Munich in mid September/early October you should take in the atmosphere at the famous 'Oktoberfest' with its Bavarian beer tents, food stalls and amusement park rides.
Shopping
From designer boutiques to quaint local Bavarian souvenir shops and markets, Munich offers something for all shoppers. There are also a wide selection of restaurants and local Beer Gardens offering German, Continental and International cuisine to cater for all tastes and budgets. Munich also has a vibrant nightlife.
Excursions
There are plenty of bus/coach operators offering sight-seeing tours around the city of Munich and the surrounding countryside. Alternatively car hire is available allowing you greater flexibility to explore the region at your leisure.
Family
Munich is a child friendly destination with plenty to do and see. The whole family will enjoy a visit to the Hellabrunn Zoo, the animated puppet show at the Münchner Marionetten Theatre or the Bavarian Film Studio.
Getting Around
The public transport system in Munich is very good and includes trains, an efficient underground system, trams and public buses. Private taxis are available, but expensive. Bicycle and Car hire also available.