Naples Travel Guide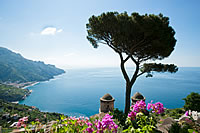 Naples is in the process of a makeover, part of a plan to restore its plentiful historical sights to their former glory, making this an exciting time to visit the city. This is the home of the pizza and a centre for music within Italy, as well as looming architecture and vibrant cafes. This is a city which can be taken at any pace. While shoppers bustle for bargains and history seekers rush to cram in the sites, there's always time to grab a coffee and watch the world go by in this unique Mediterranean treasure.
Location
Southern Italy
Climate
Naples' position in the south of Italy means visitors can enjoy a typically Mediterranean climate, with temperatures rising to around 30 degrees C in July and August. Visitors may find spring and autumn temperatures more comfortable for walking around, as well as the benefits of reduced costs in comparison to the peak season.
Currency
Euro
Time Difference
GMT +1
Transfer Time
Naples International Airport is situated just four miles to the north-east of the city and taxis are available on arrival to take passengers straight to their hotel. However, buses leave from in front of the arrivals concourse regularly and go to the city centre; look for the ANM 35 and ANM Alibus.
Hotels
To make a short trip to Naples a truly memorable experience, try one of its most distinctive hotels, the four star Hotel Villa Ranieri - an eighteenth-century villa near the Capodimonte Royal Palace. The luxurious Grand Hotel Vesuvio has been entertaining guests since 1882 with decadent luxury and seafront views. Less expensive, but very central, are the Chiaia Hotel de Charme near the Piazza del Plebiscito and the more modern MH Design Hotel in Via Chiaia.
Attractions
The city centre has been officially classified as a World Heritage Site by Unesco, and a walk around the impressively varied old town is a must on any trip. Of particular note are the Piazza del Plebiscito, and the Royal Palace which sits to the east of the square. The castles of dell'Ovo (or Egg Castle), Nuovo and Sant'Elmo are also interesting historical additions to the area.
Shopping
Naples may not be known for being as much of a fashion capital as some of its Italian sisters, but it's still packed full of top designer names in areas at the Via Calabritto. However, this is a place crammed full of beautiful antiques: look for the Via Constantinopli, while Bowinkel on the Piazza dei Martiri has a fabulous collection of antique prints.
Excursions
A number of ferries run from Naples to ports around the bay, as well as local islands. A day trip to the bustling island of Capri will take around one hour 20 minutes by ferry, or 40 minutes by hydrofoil, both of which run regularly from the Molo Beverello. Once there, take time to escape the heavily commercialised areas to enjoy a walk through the magnificent scenery, or to experience the art at the Certosa di San Giacomo in Capri Town.
Family
Edenlandia is a popular option for young people in Naples, with a selection of rides and shows to suit most ages. For a more nature-friendly trip to keep the youngsters entertained head to the Vesuvio National Park where local plant life is made exciting with a sensory trail. The natural world is also celebrated at the Villa Comunale Aquarium, the oldest of its kind in Europe, with attractions for the whole family.
Getting Around
It's not really worth hiring a car if you're intending to stay within the city limits - easily accessible public transport is much better at circumnavigating the heavy traffic. Trams, buses, suburban trains and a subway are the main options - tickets can be bought at tobacco and newsstands, with further information available at the Piazza Garibaldi. Most sites can be accessed by foot.