Nassau Travel Guide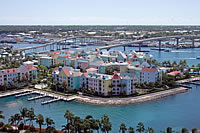 If you're planning a holiday in the Bahamas, Nassau, the capital, is a good place to start. The metropolis manages to mix a modern American feel with the traditionally laid-back atmosphere of the region, making this the perfect destination for those looking for a good balance of sun-drenched beach sessions, culture and entertainment.
Location
New Providence Island, the Bahamas
Climate
The Bahamas in general enjoy a tropical climate with sultry temperatures year-round. Average temperatures generally hover around the mid-20s degrees C, but it's best to avoid the region in August and September, which is hurricane season. Most of the rain falls between May and November.
Currency
Bahamian dollar
Time Difference
GMT -5
Transfer Time
Lynden Pindling Airport is the main hub for the Bahamas. You can get from the airport to Nassau via taxi, rental car or hotel shuttle - there are few bus services available. All taxi rates are fixed by the state.
Hotels
Nassau is home to all manner of accommodation, including resorts, boutique hotels, guesthouses, bed and breakfasts, villas and motels. Luxury lodgings include the Sandals Royal Bahamian Spa and Offshore Island, as well as the British Colonial Hilton Nassau. More moderately priced accommodation includes the Grand Central Hotel and the Orange Hill Beach Inn.
Attractions
There's plenty to see in Nassau once you've got the energy to do more than lie on its golden beaches all day. You could visit the Bahamas Historical Society Museum or the charming Balcony House Museum, take a bird-watching tour or indulge in some diving. Or why not take in a spot of golf or perhaps take a boat trip around the island?
Shopping
Nassau is home to a variety of markets and shops selling all kinds of local goods, including leather products, handmade jewellery and, of course, rum - the Bahama Rum Cake Factory sells a range of Bundt rum cakes in flavours such as chocolate and pina colada.
Excursions
The rest of the islands in the Bahamas are easily accessible from Nassau. Just a few highlights include laid-back Grand Bahama Island with its relaxed atmosphere and Bimini, which is famous for its fishing. Meanwhile, the Exumas are the perfect day trip location for James Bond fans - two of the superspy's films were shot there - and Long Island could be the destination of choice for nature lovers.
Family
Kids are sure to love Nassau's pirate link - you could visit Blackbeard's Cay, named after the most notorious pirate to ever set foot in the Caribbean, or head to Blue Lagoon Island for fun with dolphins. You could also have a seaplane adventure or get to grips with the local wildlife at Ardastra Gardens, Zoo and Conservation Centre.
Getting Around
Buses and taxis are plentiful in Nassau, as are rental cars. You could also hire a horse-drawn carriage and take a historical tour of the city in style, or perhaps rent a scooter or bicycle. Local and express ferries are also on hand to transport people between islands.