Nairobi Travel Guide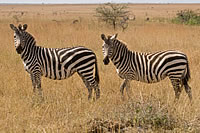 The capital of Kenya is a lively and cosmopolitan city which provides the perfect base for exploring this corner of Africa. Although media attention was attracted earlier in the year by unrest in the country, the tourism industry is still primed to welcome visitors to Nairobi - although the obvious advice is to avoid demonstrations which could turn violent. However, bad press aside, Nairobi is an exciting and vibrant place to experience a world where ancient Africa meets the modern. It developed from a swampy station on a railway line to a cosmopolitan city in the early 20th century and is still growing as a metropolis while keeping its distinctive African flavour.
Location
Southern Kenya
Climate
Although travellers may expect to face blistering temperatures on a trip to Africa, Nairobi's high altitude means moderate but sunny weather for the summer months. Winters can be cool, with light rain, so prepare for wet weather from the end of summer onwards. Generally Kenya is a varied country, with drier areas inland and more humid conditions nearer the coast.
Currency
Kenyan Shilling
Time Difference
GMT +3
Transfer Time
Jomo Kenyatta International Airport serves Nairobi with three passenger terminals receiving flights from around the world. Although currently undergoing redevelopment and expansion, it's already the busiest airport of central Africa. Frequent bus services from outside terminals one and two take passengers the ten-mile distance into the city, while fixed-fare taxis are very reasonably priced.
Hotels
Situated in the heart of tropical gardens, the Nairobi Serena Hotel is a safe bet for those looking for peace and calm in the city with great views. Cheaper options are available in the region of the Kakamega Forest, while the boutique elegance of the Palacina Residence sits in the gardens of the State House Valley.
Attractions
Aside from the nature reserves and consumer attractions, the area is also the former home of Karen Blixen, author of Out of Africa, whose residence has been converted to a museum in the suburb of Karen, next to Karen College on Karen Road. You get the idea. The National Museum and the Railway Museum are also popular choices and can offer a historical insight into the area.
Shopping
The Village Market is a complex which hosts modern clothes shops, traditional gifts and cafes for grown-up bargain hunters, while a cinema, waterslides and mini-golf make this a family-friendly zone. The Masai and City Markets are prime spots for local goods, as well as a chance to experience life in modern Kenya.
Excursions
No trip to Kenya would be complete without an exploration of its magnificent landscape and wildlife. Visit the Rift Valley or Lake Magadi for two examples of glorious scenery, which serve as reminders of the rural Kenya that still dominates the country. A number of safari tours are available from Nairobi, with a range of specialisations, although be sure to purchase from a member of the Kenya Association of Tour Operators and not from a street tout.
Family
Local nature provides enough variety to keep all members of the family fascinated, and is easily accessible with sights such as the Langata Giraffe Centre, in a suburb which can be accessed by bus or taxis. Lunches are available and, although pricey, you may be joined by a lanky four-legged friend. Nairobi National Park is also home to interesting creatures, such as lions and impalas, while the animal orphanage looks after enough cute animals to melt the hardest heart.
Getting Around
The city centre of Nairobi is pretty small, and can be walked within 20 minutes. For travelling further afield, public buses are available although the variety can be confusing. Check with your hotel for accurate details on the best place to catch them. Taxis are a more expensive option - be prepared to pay around K Sh 250 for a short journey and haggle before setting off.