Nice Travel Guide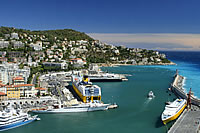 Travellers wanting to head to France while taking in sights beyond the attractions that Paris has to offer should look to Nice. This lively city is a holiday spot preferred by younger holidaymakers but can be enjoyed by sightseers of all ages. It has beaches, museums and historical buildings aplenty - meaning you'll never be stuck for something to do.
Location
On the coast of south-east France
Climate
Nice offers a solidly mild climate that rarely plunges into freezing extremes during the winter, usually staying higher than five degrees C. It gets very warm during the summer - temperatures can reach highs of 40 degrees C in July and August - but is around 15 degrees C on average during the rest of the year.
Currency
Euro
Time Difference
GMT +1
Transfer Time
The airport is located towards the west of the city. Bus services run between the airport and the city centre, or you can take a shuttle bus to one of the main hotels. Taxis are also available if you prefer to travel privately.
Hotels
Youth hostels and mid-priced hotels are common in Nice, meaning that those on a tight budget should be able to stay in the city for a reasonable price. If you're looking to splash out, Nice also offers numerous four-star hotels, including the Radisson, Sofitel and Palais de la Mediterranee. Prices can range from as little as £14 per night for a budget room to more than £600 for a complete luxury experience.
Attractions
Nice has about 20 major museums and galleries, over 30 historical monuments and plenty of park and garden space. Ornamental lakes and fountains are also dotted around the city, giving it a very pleasant atmosphere. Highlights include the opera house, the Palais de Justice and the Cathedrale Orthodoxe Russe St-Nicolas. The ruined castle over the harbour is also a fascinating place to look around while getting spectacular views of the city.
Shopping
The old town is home to a number of tiny boutiques offering local goods such as olive oil, flowers and sweets, as well as luxury items and gifts. A colourful flower market in Cours Saleya and various fruit and vegetable markets around the city are also popular with locals and visitors alike.
Excursions
Take the train west along the coast to Cannes or east towards Monaco if you have a couple of days you can devote to exploring other cities. Alternatively, ski resorts are not far from Nice, while the mountainous region is also an ideal spot in which to indulge in sports such as climbing and rafting.
Family
The Natural History Museum is sure to fascinate young enquiring minds as well as adults. If culture doesn't particularly interest the kids, take them to one of local beaches for a paddle in the sea (which will be particularly warm during July and August) or to the Castel des Deux Rois amusement park.
Getting Around
Nice boasts an extensive bus network that will get you to pretty much anywhere you want to go and is in the process of building a tram system that will offer more options. Travellers can buy an all-inclusive ticket that will allow them to board any bus for one day. If you're looking to break out of the city for a day or two, rail links are good, or failing that you could hire a car and do some exploring by yourself.