Nantes Travel Guide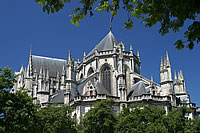 Holidaymakers looking for a history-centred city break might want to consider flying to Nantes. The sixth biggest city in France, Nantes offers a wide range of things to see and do, with a strong focus on culture and sophisticated activities such as vineyard tours and gentle river cruises.
Location
Brittany, Western France, on the Loire River
Climate
Boasting an oceanic climate, summers tend to be warm in Nantes, with temperatures averaging around the 18.5 degrees C mark. It becomes mild and wet during the winter, with typical temperatures of five degrees C.
Currency
Euro
Time Difference
GMT +1
Transfer Time
A shuttle bus service is available between Nantes Atlantique Airport and the city centre, taking about 20 minutes to make the journey between the two points. Taxis are also available.
Hotels
Nantes is home to 120 hotels, offering more than 5,300 beds in total. Major hotel chains, guesthouses, residential hotels for long-term stays, campsites, youth hostels, self-catering cottages and flats, and small hotels are all on hand to provide the perfect accommodation for every taste.
Attractions
Nantes is crammed with a host of attractions to check out. As well as a castle, museums, monuments and galleries, the city is home to a number of natural sights and activities such as floral parks and walking trails along the river. The new Nantes History Museum at the Chateau des Ducs de Bretagne is one of the major highlights, as well as the medieval quarter of Bouffay. One of the best ways to take in the many attractions of Nantes on a tight budget is to get hold of the Pass Nantes, which offers free entry to more than 20 sights across the city.
Shopping
Rue Crebillon is said to be the smartest shopping street in Nantes - and with good reason. As well as hosting a number of interesting stores, the street opens onto the Passage Pommeraye, a 19th century shopping arcade packed with intriguing boutiques. Just a few of the city's best shops include Galeries Lafayette for label lovers, ABC Terroirs for local goods and La Friande for sugary treats.
Excursions
There are plenty of things to see outside of the city, including the Loire Estuary, which is perfect for nature lovers, the vineyard trail and chateaus of the Loire Valley and the beaches of Brittany's Atlantic coast.
Family
The natural history museum is likely to be of interest to kids, as well as the planetarium. You can also take part in a range of boating activities, go bird-spotting, visit a nearby farm or park, head to the zoo and indulge in active pursuits such as go-karting and skating.
Getting Around
The Pass Nantes can be used across the city's public transport systems, including buses, trams, certain airport shuttles and more. You can also get around by taxi or by ferry if you plan to cross the river.