New York Travel Guide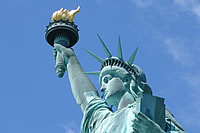 Constantly voted one of the best cities in the world, New York is like no other American city. Fast Paced, lively with hundreds of things to see and do and shops, bars and restaurants galore. Take a relaxing stroll in Central Park or have one of NYs famous giant deli sandwiches at Katz diner or take a trip to the top of the Empire State building.
Location
New York State, Eastern USA
Climate
Summers are hot and can be humid in July and August. Winters months are cold and fresh with snow. Spring, early Summer and Autumn are good times to visit.
Currency
US Dollars
Time Difference
GMT -5 hours
Transfer Time
From JFK airport 40 minutes - $35 to Manhattan in a yellow cab, from Newark 45 minutes $55 in a cab or get a train to Grand Central station.
Hotels
New York hotels are plentiful and of a high quality but they are expensive if you want to be centrally based (advisable) Booking in advance may get you a lower rate.
Attractions
Times square, Empire State Building, Statue of Liberty, Central Park, Grand Central Station, Museum of natural history, Museum of modern art, Chrysler building, Rockerfeller centre, 5th Avenue, Wall Street. The list is endless!
Shopping
New York has some of the best shopping in the US. Try Macy's or the stylish boutiques and big stores on 5th Avenue or some of the smaller designer stores in SoHo or Greenwich Village. Prices are a lot lower on most items.
Excursions
Liberty island, Ellis island, the circle line ferry at night which gives a night tour and a great view of downtown Manhattan. For New York from a locals perspective go on one of the free tours operated by Big Apple Greeters - residents who enjoy showing people around the city.
Family
New York is a hectic and fast paced city and may not be suited to young children but many restaurants (though not all - phone first) welcome children. Be aware that under 21s are not allowed in bars.
Getting Around
It's best to explore New York on foot as there is so much to see but if your legs get a bit weary take the subway. If you want to hire a car and explore upstate, many car hire firms are available but booking in advance will be cheaper.