Porto Travel Guide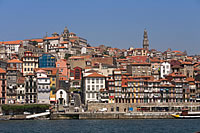 Portugal's second largest city offers a break with a difference for those wanting to look beyond Lisbon. Porto provides an interesting mix of medieval history and modern architecture and has all of the entertainments and attractions you might expect of a bustling European metropolis.
Location
Northern Portugal, on the west coast.
Climate
Porto is warm in the summer and mild in the winter, with temperatures capable of reaching as high as 40 degrees C in the hottest months. On average, however, temperatures tend to peak in the mid-20s degrees C during July and August, while winter sees average minimums of six or seven degrees C.
Currency
Euro
Time Difference
GMT +0
Transfer Time
Sa Carneiro Airport is located about 15 km from Porto. Arrivals can head to the city via the AeroBus, taxi or metro, with the metro generally being the cheapest option. There are special taxis that are specifically authorised for airport runs and should be used for this purpose. It can take about an hour to drive between the airport and Porto when the roads are particularly busy.
Hotels
There are plenty of mid-priced hotels to choose from, although families looking to rent a holiday home might find it slightly difficult. However, there are a number of rooms in residential homes on offer, while the likes of the Ipanema Park Hotel, Sheraton and Porto Palacio Hotel are handy for those wishing to sleep in the lap of luxury.
Attractions
The Ribeira - the waterfront - is an excellent place to start a sightseeing tour of Porto and visit some of the city's World Heritage sites. A wander through the city centre will offer up an intriguing mix of medieval and modern architecture unlike that seen in other Portuguese cities, with the Sao Francisco Church being just one attractive building to gaze at. Elsewhere, a fortress and - perhaps quite aptly - the Porto School of Architecture also have much of interest for those with a penchant for eye-catching buildings.
Shopping
The Mercado do Bolhao is the place to go if you fancy haggling at the market, while more modern shopping centres are also located all over the city. Santa Catarina Street and Cedofeita Street are also great locations for holiday shoppers.
Excursions
Sun worshippers will want to visit the numerous beaches located close to Porto during the summer, while a boat trip up the Douro river is a must for all. The city of Gaia is the perfect destination for wine lovers, with Braga to the north being a prime location for baroque-style monuments.
Family
Sailing on the Douro river will provide a perfect afternoon out for those with kids, while the Amarante Water Park in Douro and the Santo Inacio Park and Zoo offer further entertainment for all the family.
Getting Around
The metro is probably the best way to get around the city centre in terms of price and speed. Buses are also plentiful, although they do not always stick to their schedules. There is a cable railway network for those unwilling to trek up Porto's steep streets, with ferry boats on hand for travellers looking to cross to Vila Nova de Gaia.