Chicago Travel Guide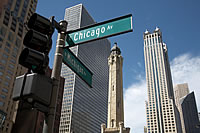 Chicago is a city of world-class status, drawing visitors from across the globe. Situated on the shores of Lake Michigan, Chicago is home to world championship sports teams, a tradition of blues & jazz, amazing architechture and a fantastic cultural atmosphere
Location
Illinois, Midwest USA
Climate
July & August gets hot (25 - 35C) and Winters are cold and snowy, temperatures dropping to -10C
Currency
US Dollars
Time Difference
GMT -6 Hours
Transfer Time
Chicago O'Hare airport is 17 miles from downtown. The EI train is the quickest & cheapest method of transport and takes around 30 minutes
Hotels
There are plenty of hotels in Chicago but many are in the upper price bracket. Be sure to book in advance as affordable rooms can get limited if there is a convention on.
Attractions
The Art Institute of Chicago, Chicago Cultural Centre, Navy Pier, Lincoln Park, Shedd Aquarium, Magnificent Mile
Shopping
Chicago is a shoppers paradise. Check out magnificent mile which has everything from the swankiest upscale boutique to all the big chain stores
Excursions
Why not try canoeing the Chicago river ?. You're likely to see deer, red fox and other wildlife. Kayaking, sailing and boat trips are available on Lake Michigan.
Family
Chicago is a very family and child friendly place
Getting Around
The best way to explore Chicago is on foot. Public transport is good by American standards, this includes EI Train and buses which go almost everywhere. For exploring further afield a car is advisable.