Paris Travel Guide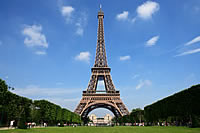 Paris is one of the most stimulating cities in the world. Famed for its culture, museums, spirit, cuisine, fashion and wonderful sights it's no wonder Paris is so timelessly popular. A perfect place for a short break or a romantic weekend for two.
Location
Northern France
Climate
Temperate – winter daily average temperature between 5-10 degrees Celsius, summer daily average temperature between 21-26 degrees Celsius
Currency
EURO
Time Difference
GMT +1 hr
Transfer Time
Paris has two main airports serving the city, Orly - 10 miles south and Charles de Gaulle - 17 miles north. There are direct shuttle trains that run to the city centre, buses and taxis.
Hotels
Accommodation is plentiful, ranging from moderate and inexpensive to deluxe 5 star luxury.
Attractions
Steeped in history and culture, Paris offers so much to see. Take a river cruise down the Seine or a stroll down the famous Champs-Elysées taking in the sights of the Arc de Triomphe and Eiffel Tower. Other cultural attractions abound including The Pompidou Centre, Art Galleries (eg The Louvre), Museums, Churches (eg Notre Dame), Ballets, Operas and the famous Show at the Folies-Bergère and of course the more recent, but no less enjoyable attraction of Disneyland Paris.
Shopping
Paris is a shopper's haven, from chic designer boutiques, perfumeries and antique shops to bargain hunter markets and souvenir shops and stalls for those who want to take home memorabilia of their Parisian experience.
Excursions
There is an abundance of organised tours (walking, bus, river cruises) to take in one or many of the attractions above.
Family
The whole family will enjoy a trip to the top of The Eiffel Tower with its spectacular views over Paris, or take in one of the traditional puppet shows at Champ de Mars. Of course many families take the opportunity to spend time with Mickey and his friends at the famous Disneyland Paris.Some hotels have free child offers and child discounts.
Getting Around
Walking is one of the nicest ways to take in the central sites of this romantic and historic City. Alternatively there are plenty of public and private transport alternatives: including Metro, Buses, River Ferries, Taxis. Car hire is available