Beijing Travel Guide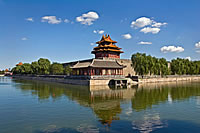 Most travellers heading to China will want to take in the sights and sounds of Beijing first. The sprawling capital boasts enough attractions and events to keep most holidaymakers busy for weeks. Whether you want to soak up its ancient history or sample some authentic Chinese cuisine, Beijing has everything you might desire - and more.
Location
Northern China
Climate
Beijing has a humid climate tempered by its position close to the northern mountains. Average summer temperatures can soar to highs of 30 degrees C in July, with average lows of -5 degrees C in January, when winters can get extremely cold and dry. Beijing also suffers from significant air pollution, although this should not be enough to spoil travellers' holiday experiences in the city.
Currency
Chinese yuan
Time Difference
GMT +8
Transfer Time
Beijing Capital International Airport is the main airport for the city and is located near Shunyi, some 20km north-east of the city centre, equating to a 40-minute drive or taxi ride. Transport links between the hub and the city are set to be further improved with the completion of a new expressway and light rail system ahead of the Olympics.
Hotels
Beijing is well equipped with accommodation. Popular hotels include the Holiday Inn Central Plaza, the Park Plaza Beijing Wangfujing, the Grand Hyatt and the quaint Beijing Sihe Courtyard Hotel. There are plenty of establishments to suit all budgets - it's worth doing your research and booking early though, particularly as the Olympics loom ever closer.
Attractions
The Forbidden City, the ancient seat of past Chinese emperors, is perhaps the biggest must-see in Beijing. As well as its impressive architecture, the structure houses a comprehensive museum displaying everything from ancient books and paintings to unique jade and stone sculptures. Other attractions in Beijing include the Great Wall, the National Museum of China in Tiananmen Square, the Summer Palace and the Ming tombs.
Shopping
Beijing boasts a combination of big name shops and intriguing little stores selling everything you could possibly imagine. Liulichang is ideal for antiques, while just a few of the best unique stores include Zhangyiyuan Tea Shop, the Yuanlong Gu Embroidery Shop and ink store Yidege. If your tastes run to the more conventional, the huge Beijing Lufthansa Shopping Centre pretty much sells everything in one place.
Excursions
There's lots to see and do just outside Beijing. Try heading to the village of Diaowo and explore its beautiful mountain scenery, or perhaps take in the views from the Badaling Great Wall. Luzhuang village, meanwhile, offers activities such as yachting and dragon boating.
Family
Kids are likely to particularly enjoy themselves during one of Beijing's many festivals, including the Sea Animals Carnival at Beijing Aquarium, the winter Pinggu Swimming Festival and, of course, Chinese New Year.
Getting Around
Try to avoid getting around Beijing during rush hour, when it gets extremely busy. Otherwise, visitors can pick from tens of thousands of taxis, a quick subway service and the public buses, which represent the cheapest option - other than walking.