Perth Travel Guide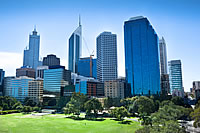 The Western Australian capital offers much for all the family as the ideal destination for a city break. Perth boasts a thriving centre packed with shops and attractions, while its beautiful beaches provide the ultimate place in which to relax after a morning of sightseeing.
Location
South-western Australia
Climate
Perth is generally either warm or mild year-round, even in winter. Summer temperatures can soar up to over 40 degrees C, while in winter daytime temperatures tend to go no lower than around nine degrees C.
Currency
Australian dollars
Time Difference
GMT +9 hours
Transfer Time
erth International Airport is located about eight miles east of the city and is easily accessible by road. You can either rent a car, get a taxi or take one of the regular shuttle bus services between the two points, which drop off passengers at selected hotels in the city centre.
Hotels
Accommodation is plentiful in Perth, with the city offering options for backpackers, singles and families alike. The Northbridge area is ideal for backpackers on a tight budget, while exclusive boutique hotels and mid-priced facilities are available in the centre of the city. Serviced apartments are also increasingly being taken up by those looking to stay in Perth for an extended period of time, as well as by families.
Attractions
Perth hosts a variety of attractions and activities for all types of traveller. Its main features include Barrack Square, which is situated by Swan River and has numerous cafes, restaurants and art facilities; Heirisson Island, which harbours a colony of Western Grey kangaroos; and numerous art galleries and museums. The city puts on a number of major events over the course of the year, including the National Sausage King Championships in March and the WAMi music festival in February.
Shopping
As you might expect from one of the biggest cities in Australia, Perth provides a bewildering array of stores and markets to satisfy the choosiest of shoppers. As well as offering all the usual high street shops, the city is home to numerous clothing boutiques and cutting-edge stores for those wanting to keep abreast of the latest trends and styles. The three main department stores sell pretty much everything you can think of, while King Street is the place to go for off-the-wall and quirky gifts, homeware, clothing, accessories and more.
Excursions
Perth provides a number of walking trails for those wanting to discover the city on foot, taking in the effect of transported convicts on past inhabitants of Perth, the rise and fall of the city's biggest businesses and dozens of parks and gardens.
Family
For those heading out to Perth in November, the Awesome Perth International Children's Festival provides a raft of arts events geared towards young ones. Year-round, families can enjoy Perth Zoo, outings to the park and excursions on Swan River.
Getting Around
There are three free bus services that travel around the city centre. A free transit zone within the city boundaries also provides free tickets for Transperth buses and trains; alternatively, taxis are plentiful and offer a quick and convenient way of zipping between Perth's attractions.