Paphos Travel Guide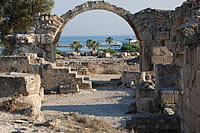 Most people think of Cyprus as a winter-sun destination within easy reach of the UK. However because of its diverse and fascinating history it also offers a wealth of cultural and architectural delights for visitors and Paphos is great base from which to explore the country. Other resorts reached from Paphos include Polis, Latchi, Pissouri and Limassol.
Location
South West coast of Cyprus
Climate
Warm Mediterranean climate – mild winters (average 10-15 degrees Celsius), hot summers (average 27-30 degrees Celsius).
Currency
Cyprus Pound
Time Difference
GMT +2 hrs
Transfer Time
Transfer times by coach from the Airport are: Paphos (approx 20 mins), Pissouri (approx 40 mins), Polis and Latchi (approx 1hr 15mins) and Limassol (approx 1 ½ hours). Car Hire and taxis are also available.
Hotels
Paphos a wide range of accommodation from small local pensions, self-catering apartments to luxury 5 star club resort hotels.
Attractions
Historic sites such as the Odeon Theatre, historic Roman mosaics, fortress, tombs. Outdoor activities – swimming, diving, beaches, hiking, golf, etc
Shopping
Shoppers will enjoy exploring the many shops and markets in Paphos. Tavernas and restaurants are plentiful and offer a mix of Mediterranean and international cuisine. There is also a vibrant night-life at the local bars and discos.
Excursions
Tours are available to interesting archaeological sites like the Tombs of the Kings built into the cliff face less than 2 miles from Paphos, the Baths of Aphrodite with its fountain of Love, Aphrodite's birthplace, the monasteries of Chrysorrogiatissa and Agios Neofytos.
Family
Paphos is a great holiday destination with something to offer all the family. Child discounts are available at some resort hotels.
Getting Around
Walking is a nice way to explore the sights in the town. Taxis are available. Local buses operate between most major towns on Cyprus. Taxis are also available. Car hire is a great way to explore Paphos, the surrounding countryside and the other nearby resorts of Polis, Latchi, Limassol and Pissouri.