Puerto Plata Travel Guide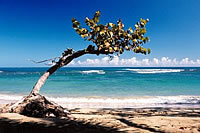 The province of Puerto Plata in the Dominican Republic is fast becoming a popular destination for sun-seeking holidaymakers. Its most obvious attraction is its lush beaches, but look a bit deeper and you'll find a host of things to see and do apart from lazing in a sun lounger all day.
Location
On the northern coast of the Dominican Republic
Climate
Generally hot year-round, with average temperatures reaching up into the high 20s and early 30s degrees C. However, it can feel significantly hotter when humidity is factored in.
Currency
Dominican peso
Time Difference
GMT -4
Transfer Time
Puerto Plata Gregorio Luperon Airport lies about 11 kilometres from the main city of Puerto Plata. The main method of transfer is by taxi or a rented car and it generally takes around 20 minutes to drive from the airport to one of the main hotels in the area.
Hotels
The Puerto Plata province is home to a wide array of resorts and hotels, offering options for those who like all facilities close to hand and for those who just prefer a basic place to sleep in and make day trips from. You can also hire a villa or apartment if you prefer some degree of independence. Prices typically range from around £20 per night for a budget room to somewhere in the region of £200 for something more upmarket.
Attractions
As well as the obvious activity of lounging around on one of the many beaches that line the north coast, visitors to Puerto Plata can indulge in a bit of golf, scuba diving, snorkelling and windsurfing. You can also head into the city of Puerto Plata and check out the eclectic architecture there, or perhaps take in some French ballet and other dance performances. Try out some salsa or merengue dancing yourself at night, or just sit and relax with a rum-based drink at one of the many bars in the area.
Shopping
Holidaymakers can head straight to the big Playa Dorada Plaza shopping centre near the resorts when they want to splash out on a shopping spree, but more interesting goods can be found at the various markets and one-off stores dotted around the province.
Excursions
Check out the El Morro National Park at Monte Cristi, a region located several hours' drive from Puerto Plata, to see a wide range of birds and other wildlife. If you're travelling between January and early April, make sure you take a trip to Samana to witness the return of the humpback whales. You can also take a number of tours throughout the region, including ones on horseback.
Family
The resorts offer much entertainment for all the family, but if you fancy heading out to see the rest of the province, merengue festivals take place in July and October, offering a host of things to see and do for adults and children alike. Or why not take a mountain tour to Santiago, or spend an educational afternoon at the amber museum in the city of Puerto Plata?
Getting Around
The main types of public transport in Puerto Plata include buses, guaguas (mini-vans), public taxis and motoconchos, which offer a unique travel experience in the form of a motorbike ride to your chosen destination. Private taxis are also available and generally charge a fixed fee instead of metering the fare.