Shanghai Travel Guide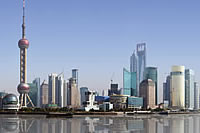 Shanghai offers a host of historical attractions, grand views, culture and architecture - perfect for those looking for the ultimate long-haul city break. The metropolis is generally regarded as the birthplace of modern China, offering up a unique mix of old and new.
Location
On the east coast of China on the eastern tip of the Yangtze River Delta
Climate
Shanghai may be best visited in the warm spring or cool autumn, when the weather is mild and there is little rain. The summer months of July and August can be scorching hot, with temperatures reaching over 35 degrees C with 80 per cent humidity. This is also the "Plum Flower Rain" season. The winter months may well be best avoided too, as temperatures drop to below zero degrees C.
Currency
Chinese yuan
Time Difference
GMT +8
Transfer Time
Shanghai's two main airports are Pudong International Airport, located in the east of Shanghai - 13km south-west of the centre of the city - and Hongqiao International Airport in the city's western suburbs. A shuttle bus service is available from both airports to a variety of hotels in the city, as well as the main railway stations and the city centre and run at regular intervals. Taxis are available, although it is advisable to have a map handy or a Chinese translation of the destination, as many taxi drivers do not speak English.
Hotels
Shanghai has a good mix of family, business, budget and upmarket hotels catering for all budgets. For five-star glamour try the Shanghai Marriott Hotel Hongqiao, Sheraton Grand Shanghai Tai Ping Yang Hotel or Okura Garden Hotel. More moderately priced establishments include the Jin Xiu Hotel and the East China Hotel.
Attractions
Just a few of Shanghai's most popular attractions include the People's Square, Shanghai Museum, Shanghai Science & Technology Museum, the Bund, the Jade Buddha Temple and the Jin Mao Tower. There are also more than 1,000 restaurants serving food ranging from traditional Chinese cuisine to French, Russian and Italian dishes.
Shopping
The most traversed shopping areas in Shanghai include the Nanjing Road Pedestrian Mall, Huaihai Road, Sichuan Bei Road, Yuyuan Commercial and Tourist Area, the Ever Bright Commercial City, Xujiahui Commercial City and Zhangyang Road Commercial City in Pudong, offering everything from tourist souvenirs to designer goods.
Excursions
Regular tours to locations such as Mount She, Dian Shan Lake, the deepwater port and the Chong Ming Island are on hand to offer visitors a glimpse of life in Shanghai's suburbs and outer limits.
Family
There are plenty of child-friendly attractions in Shanghai - try Shanghai Zoo, the Shanghai Ocean Aquarium, the Natural Wild Insect Kingdom, Kidtown and Century Park.
Getting Around
Public transport in Shanghai includes taxis, buses, ferries, the metro and the light rail service, with the latter two offering the most convenient and hassle-free travel. Make sure to avoid the extremely busy rush hour when using public transport, however.