Marrakech Travel Guide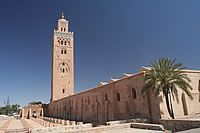 This Moroccan metropolis is the ideal location for a short, exotic city break where travellers can benefit from the unique mix of eastern and western elements. Spectacular mountain surroundings and round-the-clock hustle and bustle make Marrakech the perfect destination in which to both relax and soak up a whole new culture.
Location
South-western Morocco
Climate
Spring and autumn are the best seasons to visit, as summer and winter bring extreme temperatures that are not particularly conducive to a fun holiday. Average temperatures can reach 40 degrees C in July and August, but the months immediately prior to and after summer are cooler, with temperatures of between 20 and 25 degrees C.
Currency
Moroccan dirham
Time Difference
GMT +0
Transfer Time
Marrakech-Menara Airport is located some four miles to the south-west of the city. Taxis and buses, which run about every 20 to 30 minutes, are available between the two points, as are pre-booked airport transfers with a number of different companies. Car rental services are also on hand.
Hotels
Marrakech is full of townhouses (riads) that have been converted into hotels, offering moderately priced accommodation that is also clean and comfortable, as well as more traditional lodgings. You can choose to stay in the Medina or Gueliz (or Ville Nouvelle, as it is also known) areas, or find somewhere on the outskirts of the city. Medina is perfect for those on a tight budget, while quiet Gueliz is home to numerous mid-priced hotels.
Attractions
Have a wander around the grounds of Katabouia Mosque (if you're not a Muslim you won't be allowed inside the actual building), or take a peek at the Jardin Majorelle, a quiet place of greenery that also contains the interesting Museum of Islamic Art. El Bahia Palace and the Musee Dar si Said - another museum - are also worth checking out on a stroll around the city.
Shopping
The Djemma El'Fna is one of the busiest parts of Marrakech, comprising a square that is actually a warren of narrow alleyways packed with entertainers and vendors. Nearby are the souqs, or markets, that sell everything imaginable, from spices and fresh produce to rugs and pottery. This is the ideal place in which to test those haggling skills.
Excursions
Outside the city, a whole other world awaits. Check out the rural village of Asni or the town of Amizmiz, both of which are located in the Atlas mountains, or go skiing in Oukaimeden if you're in the region during the wintertime.
Family
Why not take the kids for an unforgettable tour around the Atlas mountains? You could also take them to see the Cascades d'Ouzoud 160km away, a spectacular waterfall measuring about 110 metres high, or perhaps just stay in Marrakech and explore its various family-friendly restaurants and museums.
Getting Around
Walking will serve you well around the Medina district, but if you're heading further afield you might need to take a bus or a taxi. Alternatively, you could do something different and hire a caleche, which is a horse-drawn carriage, or see the city's main outdoor attractions in one go on a sightseeing bus.