Rhodes Travel Guide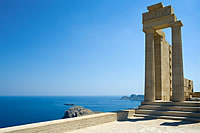 This Greek island is something of a haven for sun-seekers and culture vultures alike. Holidaymakers flying to Rhodes will be able to lie on one of its many golden beaches, investigate numerous ruins and ancient buildings, and even climb to the island's highest point - just a few of the numerous attractions and activities that travellers can enjoy.
Location
Part of the Dodecanese group of islands off the south-east coast of Greece.
Climate
With maximum highs of 33 degrees C in July and August, Rhodes is something of a sunbather's paradise during the summer. It is relatively mild during the rest of the year, with minimum winter temperatures dipping to about six degrees C in the winter.
Currency
Euro
Time Difference
GMT +2
Transfer Time
Rhodes International Airport (also known as Diagoras International Airport) lies on the western coast of the island and is situated 15 kilometres from the city of Rhodes. Taxis and buses are available for transportation by road to various towns and cities, with timetables available from the information desk inside the airport.
Hotels
Holidaymakers can choose from a wide range of resort hotels, independent guesthouses, villas, apartments and budget accommodation in Rhodes. Prices can range from about £20 for the most basic of rooms to nearly £600 for a luxury suite. Traveller-recommended lodgings include the Atrium Palace in Rhodes City and the Lindian Village in Lindos.
Attractions
While there are no remains of the Colossus of Rhodes - one of the Seven Wonders of the Ancient World - there are still a host of historical sites and monuments for tourists to gaze at on the island. The famous Valley of the Butterflies, about 27 kilometres from Rhodes City, is home to a breathtaking array of the colourful winged insects. The Old Town in Rhodes City offers the magnificent Castle of Rhodes, which was built in the 13th century. If that doesn't take your fancy, there's always a beach or two to laze on, with the eastern coast of the island offering a sandier and calmer atmosphere than the rocky western coast.
Shopping
Home-grown products such as olive oil and wine should be stocked up on in Rhodes. The city of Rhodes' Old Town is especially good for leather and gold goods, while an array of other items can be found in the countless little shops and stalls strewn across the city. A word of warning, though: it is often cheaper to buy from one of the smaller outlets than the big tourist bazaars, which may charge significantly higher prices than elsewhere on the island.
Excursions
Jump on a boat and travel to one of the neighbouring islands, such as Symi, which offers landscapes and views ideal for those fond of walking. You could also catch a ferry to Turkey, or step on a flight to Athens if you want to sample more Greek culture.
Family
Boat rides around the island are ideal for keeping little ones entertained. As well as taking the children for a bout of castle-building on one of Rhodes' many beaches, the local resorts generally offer a range of activities geared towards kids.
Getting Around
Buses comprise the main form of public transport in Rhodes and visitors can often board a bus by flagging one down from the side of the road, rather than trekking to the nearest stop. Taxis are also on hand to offer a quick lift to your desired destination, but tourists are advised to obtain a list of the maximum fares allowable from the tourist information office. You can also rent a car or a motorcycle for a relatively low price.