Rio De Janeiro Travel Guide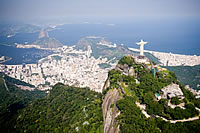 Rio De Janeiro is an enticingly vibrant city nestled in picturesque surroundings. The Brazilian city offers a host of attractions and events to suit even the most daring traveller, and also has enough in the way of culture to educate those eager to fully immerse themselves in the Rio experience.
Location
On the east coast of Brazil
Climate
The city enjoys a tropical climate, with temperatures ranging from lows of around 20 degrees C in winter to highs of 30 degrees C in the summer.
Currency
Brazilian real
Time Difference
GMT -3
Transfer Time
Galeao International Airport is situated around 20 kilometres from Rio city centre, which is easily accessible via road, either through a taxi or bus.
Hotels
As you might expect, a popular destination such as Rio has a wealth of lodgings to choose from. The famous Copacabana houses a large proportion of the city's hotels, but others are available elsewhere if you want a quieter stay. Backpackers are extensively catered for, with a number of hostels and low-cost bed and breakfasts on hand.
Attractions
If you're going to Rio, make sure you have enough time to see the sights - because there are more than you can shake a stick at. Lovers of all things historical will be in their element among the city's numerous museums, while the famous statue of Christ the Redeemer is always a port of call for tourists. Elsewhere, the city boasts a beautiful botanical garden and the spectacle of the Sugar Loaf belvedere, as well as samba-infused beach parties on the Copacabana for those looking to let loose in the evenings. Don't forget the famous Carnival in February and lively new year celebrations for event-focused trips.
Shopping
Rio is a great place to shop for beachwear and gifts. It is home to a number of exclusive bikini shops for those wanting to fit in with the trendsetters lazing on the sand, while the Rio Sul shopping centre offers plenty in the way of surfing gear. Elsewhere, there are several superb bookshops and lots of gift and toy stores for younger holidaymakers.
Excursions
It is near impossible to visit Rio and not be entranced by its lush green surroundings. The city is perfectly located as a base from which to take day trips to Amazon rainforest and marvel at the sheer wealth of flora and fauna to be seen in every nook and cranny. Try taking a ferry up the Amazon for an unforgettable experience - but make sure you use a trustworthy boat operator. Back in the city, a number of walking tours are available for those wanting a firsthand look at the fascinating architecture and history of the area.
Family
While Rio is considered one of the party capitals of the world, there's plenty on offer for those with young children in tow. Football fans young and old are sure to enjoy a tour of the world famous Maracana stadium, which with a capacity of 150,000 is the biggest football venue in the world. Or why not take the kids on a picnic in one of the city's many parks, or explore the Forest of Tijuca - the biggest urban forest in the world?
Getting Around
Rio has a comprehensive - and cheap - bus network that is used by most locals and visitors. There is also a subway, lots of taxis and a tram that is more something to see than a form of transport - the Santa Theresa tram is the last one in Rio and is over 100 years old - but travelling on it is quite an experience!