Rome Travel Guide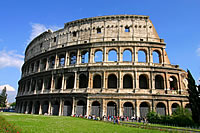 The Italian capital is world renowned for its culture, food, entertainment and architecture, offering a host of things to see and do for visitors to the city. Holidaymakers flying to Rome will find a bustling city that is both steeped in history and buzzing with modern cosmopolitanism.
Location
Western Italy
Climate
Visitors to Rome will be able to enjoy a sizzling Mediterranean climate in the summer months and relatively mild weather during the rest of the year. Temperatures can reach an average high of 28 degrees C in July and August, while dropping to an average low of three or four degrees C in January and February.
Currency
Euro
Time Difference
GMT +1
Transfer Time
The main airport is called Leonardo da Vinci Airport, but is also known as Fiumicino. It is located about 20 miles from the city centre, which is accessible via the Leonardo Express train service to the main Stazione Termini station, a journey that costs about €8.80 (£5.96). If you're travelling from Ciampino Airport, the Terravision bus service is recommended.
Hotels
Lodgings in Rome range from basic guesthouses to five-star luxury hotels. Bargains can be had, however, so it is generally worth shopping around a bit for the best price. Service tends to vary in quality, but the Italians do tend to adopt a 'no nonsense' approach.
Attractions
Some of the most recommended sights in Rome include the Basilica di San Pietra, the Capuchin Cemetery, the massive Colosseum, the Pantheon temple and Trevi Fountain, which is the biggest of its kind in the city. A host of other impressive basilicas and churches are scattered across Rome, as you might expect in the home of the Roman Catholic church.
Shopping
There's something for everyone in the shops and markets of Rome - you can browse designer fashion items, high-end jewellery, strange antiques and locally-made homewares, among other things. Just a few recommended stores include the Berte toy shop and trendy shoe shop Loco.
Excursions
Why not escape to the coast and enjoy the peace and quiet of the sea, or travel a bit further afield by taking the train to Florence or Naples? Other destinations in the Lazio region, where Rome is located, include historic Viterbo and the Sperlonga resort.
Family
Inquisitive children are sure to enjoy exploring the various ruins and old buildings around Rome. A trip to the coast always goes down well with children, while Explora, a children's museum, the San Carlino Puppet Theatre and Rome Zoo, also known as the Bioparco, offer more diverse pleasures for young and old.
Getting Around
Public transport in Rome is run by one company, meaning that tickets are valid across all services. You can buy a single ticket for €1 or purchase a day travel card for about €4. it is best to avoid driving around the city wherever possible, as much of the centre is closed to traffic and other roads can get very busy.