San Diego Travel Guide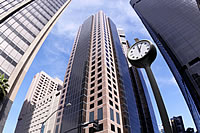 With pristine beaches, a laid-back atmosphere and year-round warm weather, it is little wonder that San Diego is one of the US' most popular destinations. A surfers' paradise, San Diego is home to dozens of fantastic beaches, including the famous La Jolla beach, situated to the north of the city. Discovered by a Spanish missionary in 1542, the city has remained true to its Spanish roots and is a melting pot of cultures.
Location
California, USA
Climate
San Diego enjoys mild, sunny weather throughout most of the year, with average temperatures of around 22C. However, those travelling between November and February should consider packing an umbrella, as the city enjoys moderate levels of rainfall during these months.
Currency
US Dollar
Time Difference
GMT -8
Transfer Time
The city enjoys excellent transport links and there are regular bus and train services between the airport and downtown San Diego, which is approximately five miles away. One-way tickets are available from around £1.50.
Hotels
Visitors to San Diego will find accommodation to suit all budgets. The city is home to the famous Hotel Del Coronado, which featured in 'Some Like It Hot', along with budget hotels such as the 500 West Hotel, the La Pensione Hotel and the upmarket La Valencia.
Attractions
As the eighth-largest city in the US, San Diego is home to dozens of top attractions, including SeaWorld, Balboa Park and the famous San Diego Zoo. Other popular sights include the Wild Animal Park, Timken Museum of Art and the Ocean Front Walk. For nature lovers, the Torrey Pines State Reserve is a must-see, rare birds and trees aplenty. One of the wildest places on the California coast, Torrey Pines covers over 2,000 acres and features miles of unspoilt beaches, woodland and even a lagoon.
Shopping
As with most US cities, there is no shortage of shopping malls and exclusive boutiques in San Diego. One of the city's most famous malls, Fashion Valley is a 200-store outdoor outlet, housing a number of well-known stores such as JC Penney, Bloomingdales and Nordstorm. Fashionable and upscale, Fashion Valley dates back to the 1970s and is the ideal place to pass a rainy afternoon and splash some cash.
Excursions
There are no shortage of excursions available for those looking to explore the more difficult-to-reach areas of the city. Excursions available include one-day trips to popular haunts such as Disneyland, Legoland and the Paradise Pier. Those looking to explore a little further afield can travel to Tijuana, which is situated on the Mexican border.
Family
San Diego Zoo is one of the city's most popular attractions, particularly with families. The zoo is home to thousands of animals, from pandas to polar bears and those interested in getting even closer can visit the adjoining Wild Animal Park.
Getting Around
San Diego boasts excellent transport links and visitors should have no difficulty in getting around. A public bus system covers most of the city, while a regular rail service operates between Coronado and the Broadway Pier.