Santiago Travel Guide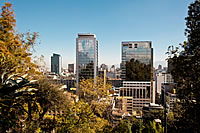 The Chilean capital lies nestled at the foot of the Andes' most spectacular peaks and offers a cultural experience to match the landscape. Visitors who fly to Santiago will be able to have the perfect city break, with all of the luxuries and amenities of modern life close by together with the day-tripping potential of the city's immediate surroundings.
Location
Central Chile
Climate
Summers in Santiago are hot and dry, while winters are more humid. Between November and March temperatures can soar to 35 degrees C, while winter lows during the rest of the year tend not to dip below freezing.
Currency
Chilean peso
Time Difference
GMT -4
Transfer Time
The main airport is about 12 kilometres from the centre of Santiago. Regular bus services between the two points are available, as well as taxis - on average, a one-way trip should cost about €15 (£10), while bus tickets are around the €1.55 (£1.05) mark.
Hotels
Santiago boasts a balanced mix of big name hotels such as the Sheraton, Ritz Carlton and Radisson chains and smaller, family-run lodgings. Holidaymakers can also opt for a private apartment or a budget hostel, depending on your finances. Prices vary wildly in the city, with hostel beds available for as little as £7 a night and five-star rooms available for around £150.
Attractions
As you might expect from a capital city, visitors to Santiago will find much to see and do within the confines of the city boundaries. There are plenty of museums for those interested in its rich history, while the impressive Palacio de La Moneda - the official government palace - and the former National Congress buildings offer eye candy for architecture enthusiasts. The city also has a number of beautiful parks to relax in by day and jazz clubs for night-time fun.
Shopping
The Vitacura district offers much for those only interested in upmarket luxury shopping, as does the Providencia district and the Avenida Alonso de Cordova. For those with a little less cash to burn, try Las Condes with its many shopping centres and big name stores, while the Bellavista is the ideal place for those who like their souvenirs a bit more unusual and offbeat.
Excursions
Travellers will be spoilt for choice when considering the attractions that lie just outside Santiago. You could devote a couple of days to skiing at the nearby resorts and then spend an afternoon sampling tipples at vineyards in the Maipo and Aconcagua Valleys. Nature reserves, farms and old-fashioned markets also dot the landscape outside of the city borders, offering plenty of potential for an endless array of day trips.
Family
The Fantasilandia amusement park is probably the first stop for families with kids in tow. Elsewhere, there are numerous cafes and family restaurants to help sate young appetites, while museums and libraries put on various child-friendly activities during the days.
Getting Around
The city introduced its Transantiago public transport system earlier this year, with all-in-one fares available whether you want to travel by bus, metro or both. Private taxis and shared taxis are also on hand.